Ray Bosques (BH 3499)
Commanding Officer
Ray Bosques, better known as Rex was born in Chicago, but grew-up in Puerto Rico. It is here were his interest in Star Wars (SW) took place when he saw SW for the first time in October of '77. Since then, all Rex wanted was to meet one of the characters. Although Rex was very impressed with Vader busting in through the Tantive IV in the opening scene, Rex was inspired by Han Solo's smuggler story and cocky attitude. Rex prop making skills began at a young age too, when he made his first lightsaber by connecting a flashlight to a plastic tube using duct tape…the #1 tool in any Puerto Rican toolbox.
Rex moved back to Chicago in '88, but it was in 2000, when he meets a group of individuals with the same enthusiasm for SW that his obsession evolves. He doesn't regret joining the club, and still considers them his family. During his time with Chicago Force, Rex had the opportunity to meet many people while participating and helping organize events. During Celebration II, Rex decided to join the Midwest Garrison. After leaving C2 and joining the Episode 2 line-up, Rex began to plot on his 1st costume…and since then, his SW addiction continues. The 501st Legion has given Rex the opportunity not to only meet SW characters, but to be one too. When Rex sees a child (or adult) awe in excitement, he re-lives his childhood dream.
Besides SW, Rex is also an accomplished martial artist, community leader and has spent many years organizing and running youth programs. He is a father of 3 awesome daughters, God father of a few more and a father figure to many.
"The 501st gives me the opportunity to be a kid again and re-live those childhood memories. At the same time, I get to share my passion for SW and make a difference in our communities".
---
Brad Hartsock (TK 1397)
Garrison Executive Officer
Joined the Legion: Nov 2007, Brad is also a Member of the Rebel Legion were he is a Wookiee Costume Judge.
Born and raised in Central Illinois, graduated from Eureka High School in 1984, Joined the Air force and was stationed at Offutt AFB for 6 years, during his time at Offutt he was deployed to Fairford RAF base in England in support of Desert Storm. Honorably discharged in 1992, worked for Compaq computers in Omaha Nebraska for several years, eventually moving back to Illinois and getting a job at Caterpillar Tractor Company in Peoria. Brad's wife is Charlotte and he even got Married while wearing his Stormtrooper kit! Brad's main kit is his ANH Stormtrooper but he often also wears a Wookie Warrior kit and you may catch him at special events or C2E2 in his 'Crystal Stormtrooper' kit, it's covered with 51 thousand glass crystals.
---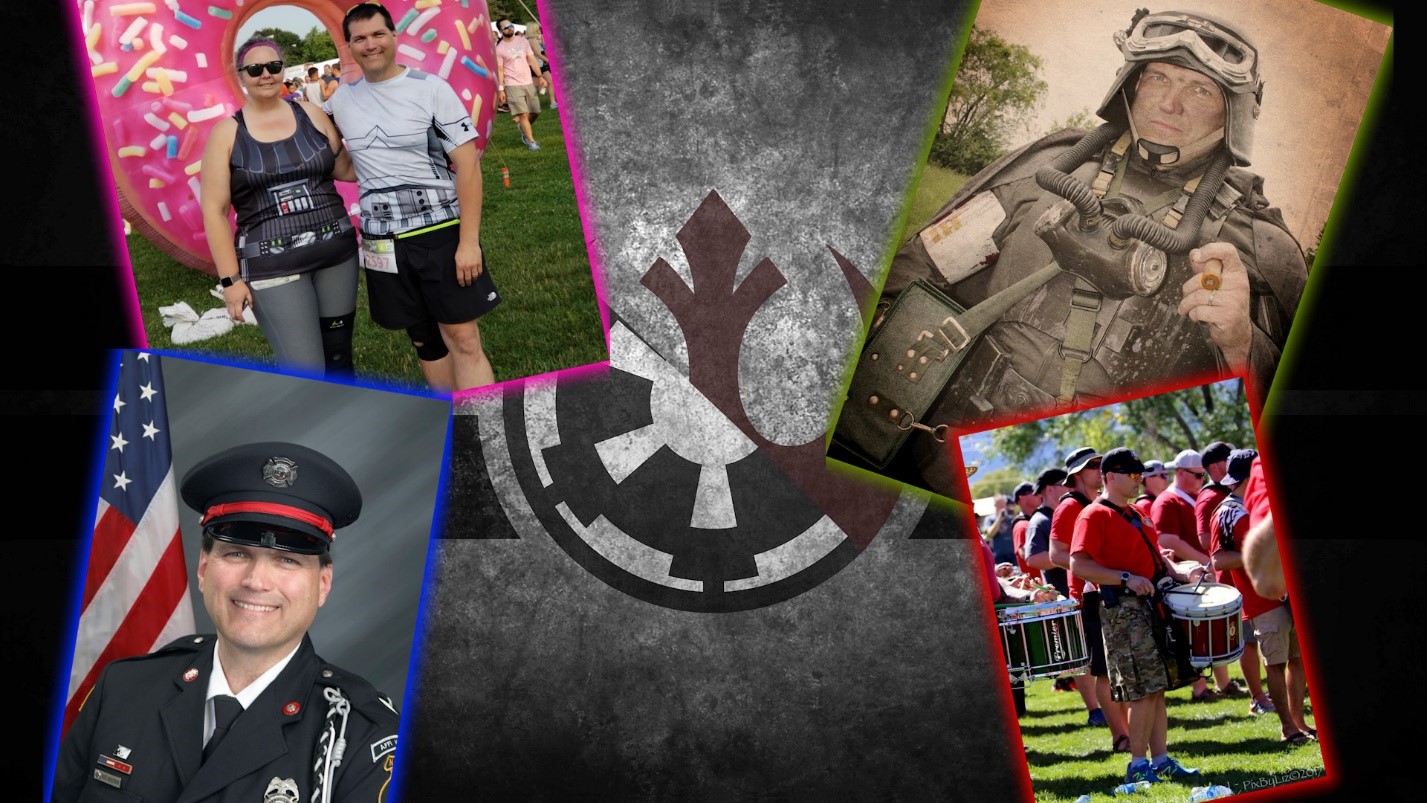 Mike Dickinson (TI 66598)
Garrison Membership Liaison, Garrison Web Liaison
Mike Dickinson was appointed to the role of Garrison Member Liaison in 2018, after taking on assisting in that role while serving as Garrison Public Relations Officer in 2017. He joined the 501st Legion in April 2016, and the Rebel Legion in October 2017 (newly serving as Base Membership Officer for Nar Shaddaa this current term). Mike's active costume lineup consists of Imperial Bridge Crew, Imperial Army Trooper, TIE Pilot (Reserve, ANH, 181st), Mudtrooper (Medic variant) and the dual-approved Imperial Knight.
He has resided in Plainfield, IL since 2003, but was pretty much a life-long resident of south suburban Hazel Crest, Illinois. Graduating from Marian Catholic High School in Chicago Heights, he briefly attended University of Illinois at Chicago, but did not find a career focus to warrant the desire to continue pursuing education there. In 1989, he was introduced to the fire service, on a volunteer level, by a neighbor. Here he found his calling, soon after enrolling in EMT and later paramedic training.
Becoming a full-time firefighter for the City of Naperville in 1992, Mike continues service there to this day. His other activities for the department have included the Technical Rescue Team, Unmanned Aerial Systems Team (Drone), Honor Guard and Pipes & Drums. His Honor Guard and Pipes & Drums activities include many charitable functions, akin to those we do in the 501st. He has even done some of the same events together, or done double-duty at them (St. Baldrick's and the West Suburban Irish Parade, for instance).
Mike has always had the desire to help others in his blood. He has done this for the nearly the last 30 years in the fire service, and continues to do so with our work in the Legions. "Bad guys, doing good."
---
Kevin R Skiera (TK 9336)
Garrison Membership Liaison, Garrison Web Liaison
(Pending)
---
Chip Childress (DS 9965)
Garrison Membership Liaison, Garrison Web Liaison
I've been a member of the 501st/MWG since 2002. I work in graphic design and sales for a sign company. When I'm not trooping, I enjoy time with my family and playing guitar.
I learned about the 501st when I saw stormtroopers at the first Star Wars Celebration. It took some time for me to get TK armor and before that I costumed as Darth Maul and then a Jedi. I was an ESB Vader for a long time and I had clonetrooper armor for a while. Now I have ANH stormtrooper armor and a TFA Kylo Ren costume.
My latest work in progress is an ANH Tusken Raider.
---
Heather Dickinson (TI 66599)
Garrison Public Relations Officer
(Pending)
---
Gemma Billings (ID 23622)
Garrison Public Relations Officer
Gemma has an Imperial Officer, a COTF Darth Nihilus, and is working on a TFA Shadow Guard and the Armorer from "The Mandalorian." She lives and works in Chicago with her corgi and Jedi husband. Gemma joined the Legion in January 2019 and helps manage the Instagram and Facebook accounts as well as promoting events on the MWG main site. She is also a member of The Dark Empire.
---
Adriane Bean (TK 4541)
Garrison Event Coordinator, Garrison Charity Representative
(Pending)
---
Rick Devine (TK 6712)
Garrison Event Coordinator, Garrison Charity Representative
Rick lives in Mahomet located in central Illinois. He works for Caterpillar, Inc. as a Supplier Development Engineer. Ever since seeing the original Star Wars movie he wanted to be a Stormtrooper. In 2010 he finally got the chance to live out his dream of being a stormtrooper as part of the 501st Legion / MidWest Garrison.
Additional responsibilities in the Garrison include being a Garrison Event Coordinator and keeping track of each of the members ToD's (Tour of Duties). Other activities outside of the garrison include spending time with his two daughters and running.
---
Eric Werner (TK 41551)
Garrison Web Master
(Pending)
---
Joseph Stacko (TR 3145)
Garrison Web Master
I have been a Star Wars fan since I was a young child, having grown up in the 90s as a member of a Star Wars family. My parents were huge fans, and they had introduced my Uncle to the saga when the original trilogy came out. Some of my best childhood memories were playing with his original 1970s figures, and those original figures are still treasured in my collection. I watched the old VHS copies religiously, and it was not uncommon to have Return of the Jedi played multiple times a day in my home. When Episode I was being promoted, was when my mother took me and my sister to our first convention (at the time, Chicago Comic Con), and it was there that I first was introduced to the 501st. At that moment, I knew I too wanted to be a "plastic space man".
The members at the time were always kind to me, and did not seem to mind this young kid who constantly would show up to the booth at conventions. They gave me a key piece of information: to fit in an FX kit (the standards at the time), you needed to be 5 foot, 2 inches. So for the next several years, I would check my height on a near weekly basis, and when I was just over 15, I hit the magic 5-2. A few weeks later a large brown box arrived, and that day I started to work on the helmet.
There was no galactic academy at the time, and it was a different world – but the garrison was still filled with kind members. They always would let me hang out with them at public events, with the understanding that my parents were there, and that if anyone asked, I was there on my own. Before long, we were at Celebration 3, at which point I had just completed my first Royal Guard. Flash forward 15 years later, and I still proudly wear the Red, but I have also added a TFA Kylo Ren, and Krennik (which was what I wore for my wedding) to the mix. I am actively involved with droid building, having been tricked by my sister (who is a proud member of the Rebel Legion) into building one of the earliest BB-8s, and my wife (who is also a MWG member) into starting an R2.
I will also add, that a major portion of my love of the 501st and MWG is our children's hospital work. Having grown up in the Boy Scouts (I am a proud Eagle), giving back to the community has always meant a lot to me, and the work we do with our local hospitals, Make a Wish, Toys for Tots, and so many others, has always been the backbone of our organization.
Outside of the 501st, I am an active member of the mental health recovery community, believing deeply in the need to assist those struggling with mental illness. Professionally, I am a mathematician for a private company in the city, and previously worked for over a decade in healthcare, doing software development for a hospital system's website. On top of that, I am also a part time college professor in mathematics.
---
Thomas J Wonogas (TI 33431)
Garrison Merchandising & Branding Officer
TJ Wonogas started his 501st career in January of 2017. This started in all places Riot Fest, an outdoor music festival, went he met another 501st member who was straight edge and was a member of a subgroup of tie pilots that all were straight edge.
This urged TJ to finally take the plunge and start on a costume to become a member. Since that first reserve tie pilot costume, he has also completed the following costumes: ANH Tie Pilot, ANH Stormtrooper, Bridge Crew, Willrow Hood, and has a legacy costume of Tedn Dahai (the cantina musician who plays the fanfar) which was originally Anthony Conte's costume, a fellow legion member who has passed.
In his personal life TJ has a career as a Mortgage Loan Originator. He also has many personal hobbies of collecting comic books and other horror and pop culture collectibles, playing his guitar and drums, and watching hockey, usually cheering on the Chicago Blackhawks.
---
Ted Ruler (SL 36285)
Garrison Merchandising & Branding Officer
I became a Star Wars fan immediately upon seeing Star Wars – A New Hope, in 1977 and have been a fan ever since. I was immediately drawn in with the opening scene, when the Tantive IV was under attack from an Imperial Star Destroyer.
Fast forward to May 19, 1999: After going to a completely full theater to see the Phantom Menace, I exited the theater with a new favorite character – Darth Maul! To show my excitement and embrace this character, I shaved a full head of hair that same year to become Darth Maul for Halloween. I didn't know it then, but this paved my path to becoming a 501st Legion/Midwest Garrison member. In 2008 I went "all in" and purchased overseas costume pieces for my Darth Maul outfit, to become Maul again for a Halloween party. Not too long after that party, I had a friend telling me about the 501st Legion/Midwest Garrison and he was praising my Maul and trying to convince me to join the group. I initially declined because I did not want to shave my goatee because I look silly without it. My friend persisted over a 3-4 year span and I finally joined the 501st Legion/Midwest Garrison in May 2013 as Darth Maul.
Since joining, my collection of costumes has expanded to multiple screen used characters, a comic character, and I even created my own character. My costumes include:
Darth Maul, ANH TIE Pilot, Shadow Trooper, 181st Squadron TIE Pilot, Black Sun Darth Maul (shirtless with body tattoos), First Order Stormtrooper, First Order Executioner Stormtrooper, Reserve TIE Pilot, Imperial Bridge Crew, ANH Stormtrooper, Retired Captain Rex, and my creation – Maul Trooper. Maul Trooper is a mash-up between a Shadow Trooper and Darth Maul.
As always – there are plenty other costumes in the works. Come and see me at any event to find out what they may be…
I am just a regular person with a regular job – I just happen to also love Star Wars. In the real world, I am a Service Engineer at GE Healthcare and I repair MRI imaging systems. I have several hobbies and interests, but to name just a few: Muscle Cars, Photography, Fishing, Triathlons, Fitness and many other things in which I can test and/or improve my abilities.
I have participated in several costumed events and there is always at least one person at every event that makes me feel great about what I'm doing and why I'm doing it. I have made smiles from fans that range from 2 years old to 90+ years old. The common denominator in the excitement is the appreciation for Star Wars characters.
If you have any interest in joining our ranks at the 501st Legion/Midwest Garrison, feel free to catch me at an event and ask me any questions. I'm always happy to share my excitement and love for Star Wars and the 501st Legion/Midwest Garrison.
---
Tim Dunne (TI 54750)
Garrison Special Operations Team Lead
Tim first became interested in the Midwest Garrison when he attended a charity event for pediatric cancer in the Fall of 2016. While at this event, he truly enjoyed watching the children interact with Garrison members and it was in this moment that he knew that this was a group that he wanted to be a part of.
Tim officially joined the 501st Legion in January 2017. He started his journey as a Reserve Pilot and quickly upgraded to an ANH TIE Pilot. He has since added an ANH Stormtrooper to his costumes with more to come.
He is now leading the Special Operations Team that oversees our Trooper of The Month program and welcomes new members to the Midwest Garrison.
Outside of the 501st, Tim is the Senior Supply Chain Manager at Superior Ambulance, in which he oversees purchasing and inventory control for the company. He enjoys going to concerts, living a healthy lifestyle, and the occasional game night. He is currently living in Naperville, IL with his wife and two sons, who are often seen at our local events.
---
Jim Marriott (TI 21175)
Garrison Guard
Jim lives in Mahomet, just outside Champaign. He works for the University of Illinois as a Program Manager for the Occupational Safety and Health Department. He married his college sweetheart, who lovingly (but begrudgingly) supports his hobbies. Jim's first kit was a TIE pilot, and he was admitted to the Legion and Garrison in 2017. He has an ANH TK in addition to the TI, and is currently working on a Heavy Weapons Trooper for future submissions. Jim has been the Guard since late 2019.