Members of the Midwest and Central Garrisons of the 501st Legion met visitors, provided ambiance, rode trolleys and played games at the
Chicago International Toy and Game Fair
http://www.chitag.com/
held at the newly-opened Schaumburg Convention Center November 17 - 19, 2006.
Highlights included Midwest Garrison Members testing their trivia knowledge live on stage against Radio Disney, meeting Santa Claus and Members participating and completing the game tournament in full costume.
Participating Legion Members:
Kathy van Beuningen TK9989 - Stormtrooper
John Duffy TK737 -Stormtrooper
Chris Spice TD7306 - Sandtrooper
Pat Engle SL6312- Darth Vader
Chris Schwarz TB9442 - Bikerscout
Tom Schaefer TK118 - Stormtrooper
Joseph Flores TI1296 - TIE pilot
Dan Geise TK6254 - Stormtrooper
John Fitzsimmons TK6442 - stormtrooper
Chris Mazzoni TK4117 - stormtrooper
Paul Mazzoni (future Legion Member) Darth Maul
Jerry Budde TK0084 - Stormtrooper / Darth Vader
Kevin Lehning TK669 - Chewbacca
Eric Timm BH3200 - Jango Fett
Jason Patterson SL1719 - Darth Vader
Aimee Jorgensen - TB0101 - Bikerscout
Jason Neurath TK1375 - stormtrooper (Central Garrison)
Jason Schuett TK5107- stormtrooper (Central Garrison)
Allyn Davis TB0945 - bikerscout (Central Garrison)
Supporting family & friends:
Quincy Newkirk (photos)
Alyssa Patterson (mini-TIE pilot)
Scott Lane - Jedi
Amanda Lehning
Bernadine Engle (photos)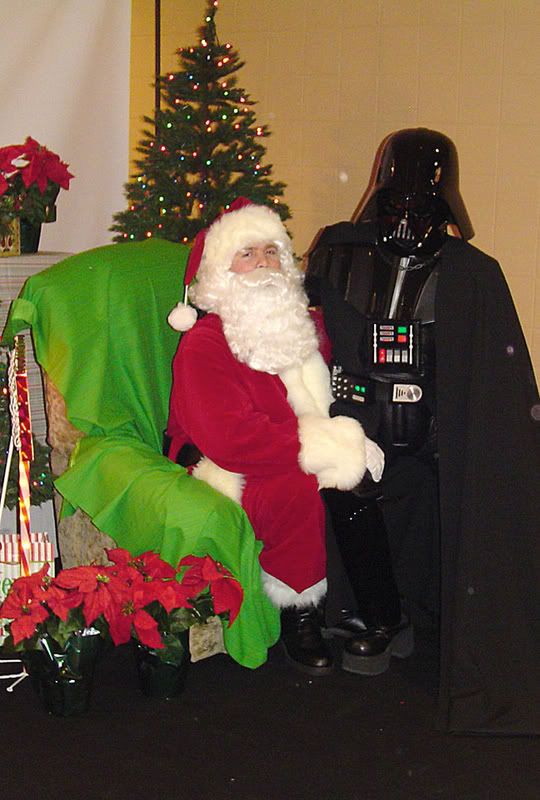 Bernadine Engle (photos)
http://s85.photobucket.com/albums/k49/D ... type=local
Tom Schaefer photos
http://www.tk118.com/toyfair06.htm
.............More coming ...............