"Membership has its privileges"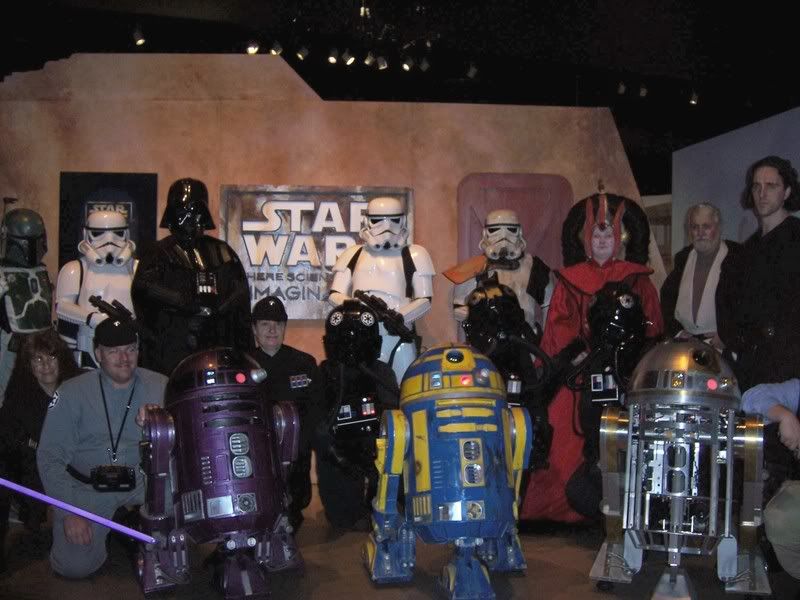 Or so the ad for American Express began.
Members of the Museum of Science and Industry did indeed get a perk on Friday night as members of the 501st, Rebel Legion, The Jedi Assembly, and the R2 Builders Group provided a little something extra for their "members only" viewing of the "Star Wars-Where Science Meets Imagination" exhibit.
I arrived early to find Darryl Sorensen in the parking area unloading his R2 unit. He was also acting as guide for his fellow R2 Builders. We had a nice chance to stand around and chat as we waited for the droids to arrive. Soon Kelly Krider arrived with R2-B3 and a little later Craig and Cindy Smith arrived with R8. All droids and their wranglers were present. What a great experience for me to arrive in the Great Hall accompanied 3 of my favorite Star Wars characters, the Astromech Droid!
With the Droids safely stowed, we gathered in the Columbian Room to begin suit up. One by one our participants arrived. Tonight was also special as it was Lionel Bottari's (Ben Kenobi) 65th birthday.
Jenn arrived with a musical card for everyone to sign, Cheryl arrived with Blue Milk, Obi-Wan cannolis, and special party favors, and I brought the cake.
Members fanned out for the next four hours providing coverage in the Great Hall, the Rotunda and inside the exhibit. Museum members that came on Friday were clearly the Star Wars enthusiast of MSI membership. Many of them had Star Wars T-shirts on and some even arrived in their own costumes. There were lots of kids and everyone was very enthusiastic in their interaction with us. We took lots of photos and "worked" the crowd inside the exhibit. Watching Anthony with his hood up standing like a statue next to the case with Anakin brought it home that having the "real thing" inside the exhibit with the items in the case was really extra special. It also reminded me that where the items in the case were made for seeing on the big screen at a distance and for usually only seconds at a time, our costumes had to withstand very close scrutiny and had to be even better than the originals from the movie.
There was also lots of ooooohhhs and ahhhhhhhs as our 3 Astromechs thrilled the crowd with their beeps, whistles, lights, movement and sounds. The kids just can't get enough of them and neither can I! I have to give credit to our R2 Builders...you guys have nerves of steel when it comes to all of those people with "hands on" your droids!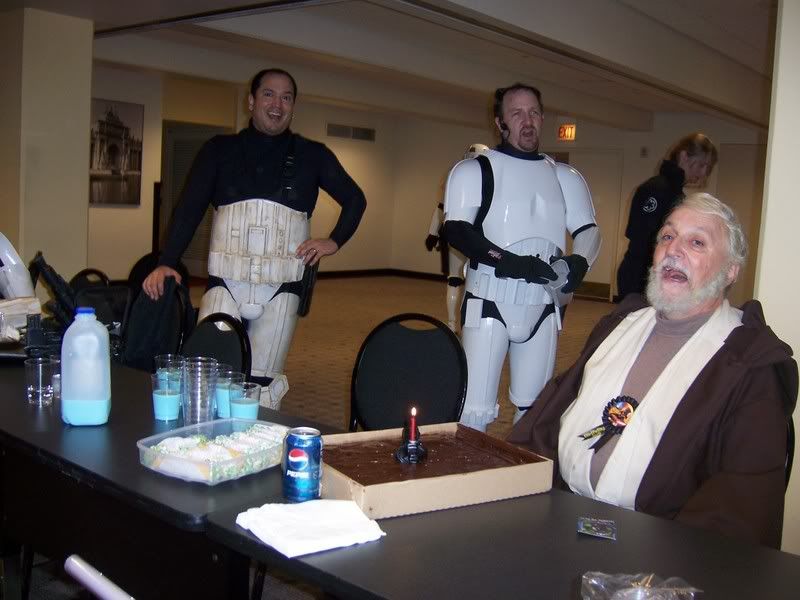 After we were done with our duties "on the floor", we retired to the Columbian Room to celebrate Lionel's birthday, a little chit-chat, and then our good-byes.
Thanks again to all our participants who make all of this possible. These nights of appearance after a long day of work are always a little more difficult but, as always, everyone did a GREAT job!
Final Participants/Costumes
SL1719 - Darth Vader - Jason Patterson
IC4050 - Imperial Crew/R2 S5 - Darryl Sorensen-R2 Builders
TI3127 - Tie Pilot - Cheryl Whitaker - Rebel Legion, TJA
TK1951 - Jedi - Phyllis Schulte - Rebel Legion - TJA
Lionel Bottari - Ben Kenobi - Rebel Legion - TJA
SL5365 - Amidala -Red Invasion - Jen Loomis - Rebel Legion
SL7956 - Anakin Skywalker - Anthony Day
BH3423 - Boba Fett - Bill Soloway
TK7708 - Stormtrooper - Geoff Adams
TI7118 - Tie Pilot - Vicki Silva
TK4544 - Stormtrooper - Ed Silva
TK9989 - Imperial Officer- Kathy VanBeuningen - Rebel Legion
TK2859 - Bill Sansom
TI1296 - Joseph Flores
Kelly Krider with R2-B3 - R2 Builders - Rebel Legion
Craig Smith with R8 - R2 Builders
Cindy Smith - droid wrangler - R2 Builders
My photos:
http://s201.photobucket.com/albums/aa30 ... r%20Night/
Vicki Silva's photos:
http://www.flickr.com/photos/24078248@N ... 2565239456
Jen's Photos:
http://s53.photobucket.com/albums/g64/b ... 0-%20WSMI/
Cheryl's Photos:
http://s180.photobucket.com/albums/x273 ... ?start=all