Honorary Member: Dave Dorman
Contribution: Star Wars Illustrator
Website:
http://www.davedorman.com/
Presented on: 12-09-06
Sponsor: James Tampa
Attending:
James Tampa, TB-1020
Kathy van Beuningen, TK-9989*
Arturo Delgado, BH-0412
Chris Rhoads, TD-1043*
Jim Niecieki, TS-1139
Thomas Spanos, SL-1876*
Jerry Buddle, TK-0084*
Ted O'Sullivan, TI-0943*
Jason Patterson, SL-1719*
*denotes in costume
This presentation was held at Blick Art Materials store in Wheaton, IL where Dave Dorman was doing an art demonstration. These Honorary Memberships were presented prior to his demonstration. An article about this presentation can be found on Sandtroopers dot com (also quoted below):
http://www.sandtroopers.com/events/blick/20061209/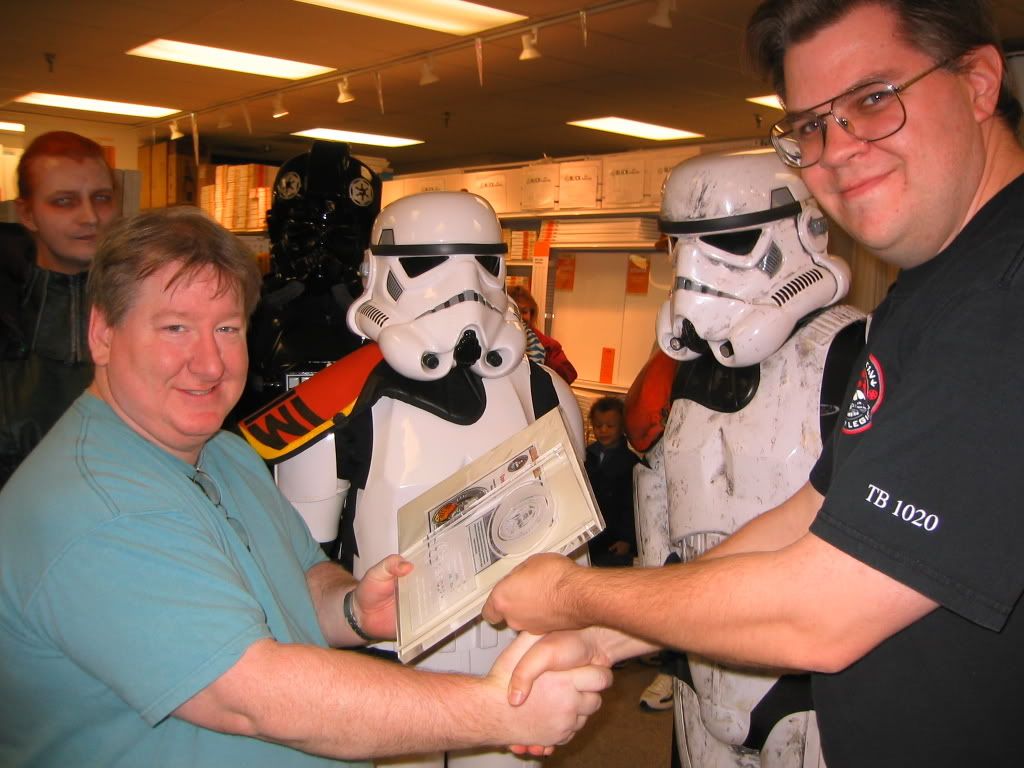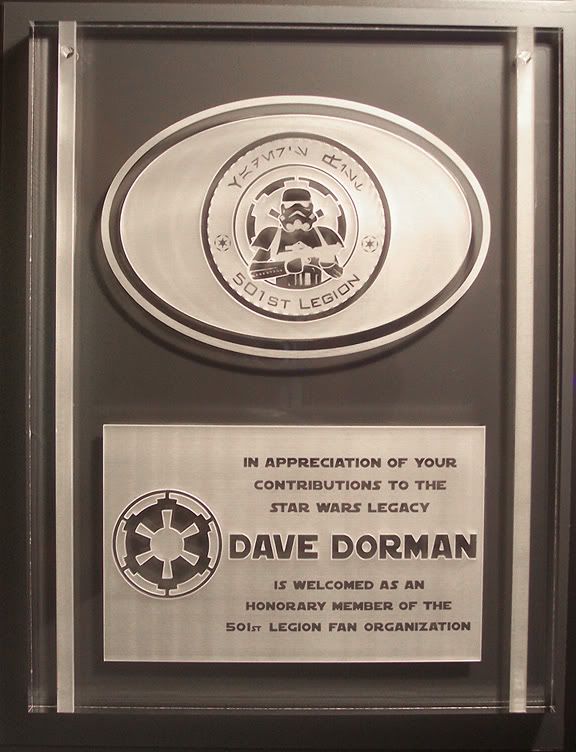 From Santroopers.com:
Blick Art Materials, Wheaton, IL
December 9, 2006
Story by Chris Rhoads (dustrho)
Photos by Jim Nieciecki (Federationtoys)


IT'S ALL ABOUT THE ART
Our Dewback Patrol stopped at Blick Art Materials in Wheaton, IL, this weekend for Art Appreciation Weekend. Seeing as there were two Star Wars artists on hand there couldn't be a better reason to take a little time for some of the finer things in life. Both Dave Dorman and Cynthia Cummens have made some pretty significant contributions to the Star Wars universe and S.C.A.L.P. Intel revealed that a pretty special event was going to happen at this event. Therefore, Sandtroopers.com wanted to have a camera in place. The work of Dave Dorman is very amazing and if you haven't I would encourage all of you to stop by and check out his Star Wars page.

Several people trekked out in the cold Chicago weather to meet both Dave Dorman and Cynthia Cummens, and luckily the General Manager of the store (Kevin Sandstrom) supplied all of the customers and guests with free hot coffee and snacks. Cynthia was approached by a few young artists who wanted to share their own artwork with her, and I can honestly say that these pieces were truly works of art. I'm sure that these individuals would someday become artists themselves.

The biggest moment of the day involved Dave Dorman being inducted as an honorary member to not only the Midwest Garrison, but also to the 501st Legion. Dave had no idea that we were going to do this for him, so when Jim Tampa made the announcement to everyone there, you could just see it in Dave's eyes how much this moment meant to him. Once the plaque was given to Dave, the entire room cheered and clapped for him. I felt honored to have been able to be there to experience that moment with him and other members from the Midwest Garrison.

After the induction ceremony, Dave began drawing what would soon become another incredible work of Star Wars art. In what only took him about an hour to complete, he had finished creating a sandtrooper on a dewback. It reminded me of the print I own of his ("Dewback Patrol"), and you know anything involving sandtroopers is a major plus in my eyes. It was just so incredible to see how little time it took him to create such a wonderful piece of art. I told him how great this looked and he said, "Just wait until you see what I've been currently working on." Sounds like he's working on something really important, and I cannot wait to see what that ends up being.
Sandtrooper dot com photos:
PICS LINK