On November 11th, Members of the Midwest Garrison greeted holiday shoppers at Younkers in Sheboygan, WI for the store's Community Day. Our Members posed for pictures with shoppers to help raise money and awareness for the Northeast Wisconsin Make-A-Wish chapter.
TK321 wrote:I can't express enough how excited Make-A-Wish is about us doing this.
I am very proud of the members that showed up for this and helped raise money for Make-A-Wish. I don't have a final accounting yet but it looks like we'll come close to the $500 I wanted to raise. Pretty respectable considering this was all pretty last minute and we were only able to do in-store advertising.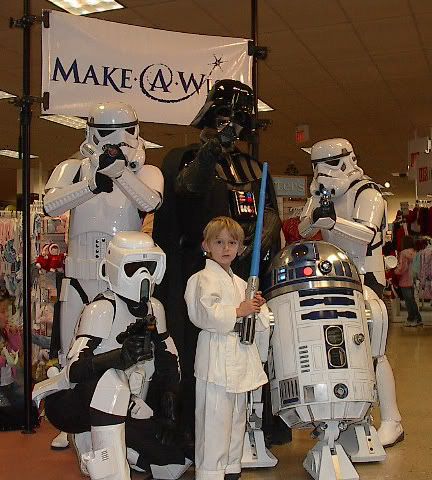 TK321 wrote:Trent, Beth, Mike and Troy (R2D2), *thank you!* I couldn't have "wished" for a better group!
Event participants:
Robb Roidt - TK321 stormtrooper
Beth Johnson - TB5852 bikerscout
Trent Thornton - SL585 Darth Vader
Michael Washko - TK895 stormtrooper
Troy - R2D2
WI-Sheboygan, *MAKE-A-WISH* benefit event - November 11
viewtopic.php?t=5073