Yesterday, July 2nd 2006, the Members of the Midwest Garrison marched in the Bartlett, Illinois Independence Day parade for the forth year in a row!
Approximately 4 dozen Members of the Midwest Garrison, along with our friends from the local Rebel Legion and our own families marched in costume on the over 4 mile long parade route through Bartlett, IL. Our members passed out over 2,000 bags of marshmallows
(donated by *Doumak Inc. )
to children along the route.
This year's Midwest Garrison entry in the parade featured a float created and built by our members. Darth Vader and a couple of his trusty Imperial friends, a Tie pilot, stormtrooper and a Royal Guard rode on the float along with most of the costumed children. Our group also included 3 trucks. One that played several hours worth of Star Wars marching music, one to carry all of the marshmallows and tow the float, and the last one to carry more marshmallows and stuff.
We were a HUGE hit at the parade again this year!
I was marching in front for most of the parade and I heard so many children exclaim, "Look! It's Darth Vader!!" when they caught site of the Dark Lord of the Sith waving to all his fans from his float. It was almost like Vader was Santa Claus!
When we finally reached the end of the parade route, we (eventually) suited down and settled down for a FANTASTIC picnic & cook-out.
This was a fantastic event!
Here are a FEW pictures. (more will be coming)
These 3 particular pictures were taken by one of our Members, Jessi Tampa TI3228.
Check out the chalk letters someone wrote on the pavement --- "Got Fun?" I also like the "deer crossing" yellow caution sign on the street.
This is the truck and float with Vader & his crew.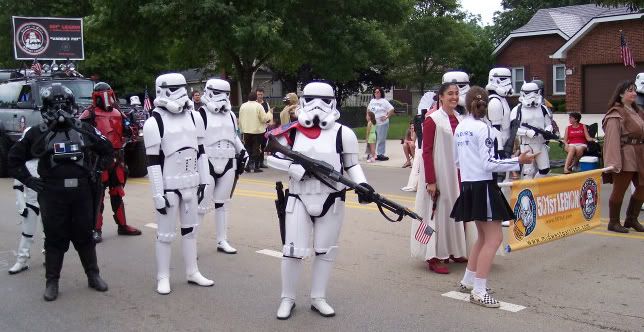 I got a little patriotic spirit too and attached a U.S. flag to the barrel of my blaster rifle & I wore my patriotic version of the custom Midwest Garrison pauldron.
Nothing says "Independence Day" & "Freedom" like an Imperial stormtrooper with a little American flag........
Looking at these photos, you ca't really tell how many folks we had on hand for this parade, because we were all spread out around the 3 trucks and the float. I am still working on our final attendance list, but it is some where around 4 dozen!
Here are some more photos that Jessi took of the parade
(Got Fun?): BARTLETT PARADE, 2006
And here are some more photos from Jim De Jan TI3853:
More Bartlett parade Photos
(More photos coming)
IL - Barttlett, IL - Independance Day Parade Sun July 2 06
Link to event planning thread.
Participants:
Tom Schaefer TK118 - Stormtrooper
(child) Austin Schaefer - Mini trooper
Jim De Jan TI3853 - TIE pilot / Driver
Em De Jan TI3853 - TIE pilot / Driver
Greg Fisher TI_____ - Tie Pilot
Joan Fisher -
Aimee Jorgensen - TB0101 Tusken
(child) Darcy Jorgensen - EP II Clone Youth
(child) Gabby Jorgensen - ANH Leia
Kevin _______ Protokev TK_____ - Stormtrooper
Rich Markle SL1781 - Darth Vader
(child) Conner Markle - ROTJ Luke
Cheryl Whitaker (Rebel Legion/JA) - Jedi
(child) Cheryl's Neice - Mini Leia
Andrew Marsh BH2079 - "Jingle" Fett
Bob Marsh - stormtrooper
Mark Berry TK____ - stormtrooper
Belinda - Imperial Officer (New recruit)
Phyllis Shulte ID1951 - Jedi
Kathy van Beuningen TK9989 - Stormtrooper
(child) Quincy Newkirk MWG Cheerleader
Gina Martino ID____ - Bespin Leia
Kevin ( ______ ) BH1180 - Boba Fett
Jim Tampa TB1020 - Bikerscout
Jessie Tampa TI3228 - camera
John Fitzsimmons TK6442 - Stormtrooper
Deidra Culp (Rebel Legion) - EP I Queen Amidalla Parade
Joe Hella - (Rebel Legion) - Jedi
Dan Geise TK6254 - Stormtrooper
Kevin Lehning TK669 - driver
Amanda Lehning - Royal Guard
David Foust TK2460 - Stormtrooper
Joseph Flores TI1296 - TIE Pilot
(child) Alex Flores - mini Mara Jade
Jerry Budde TK0084 - Tusken Raider
Chris Rhaods - TD____ - sandtrooper
Trent Thornton TK585 - camera
Beth Johnson TB5852 - marshmallow distributor
Bobby Brinegar TK1164 - camp sitter
and several more!
*Doumak Inc. Makers of Campfire, Fireside, Rocky Mountain and about 70 other brands of marshmallow.