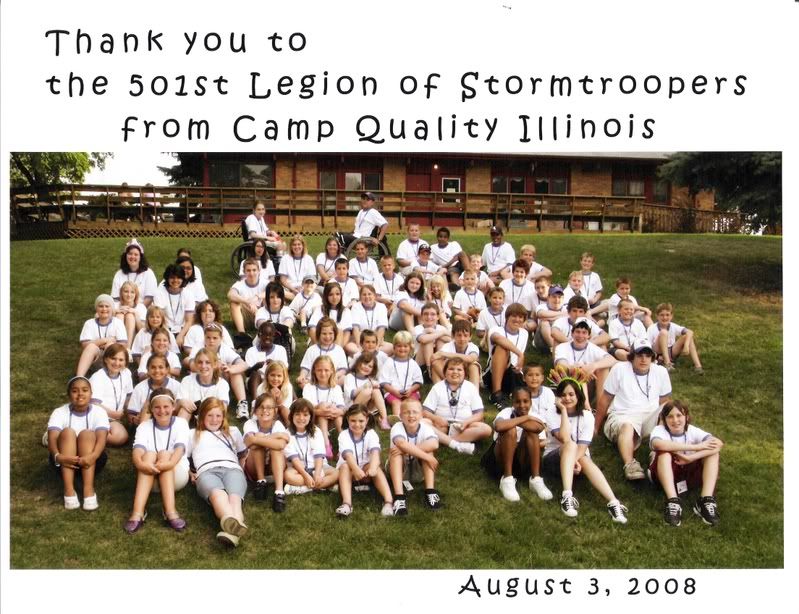 First let me warn you that this Mission Report is likely to be long as there are so many people to thank and so much information to give you.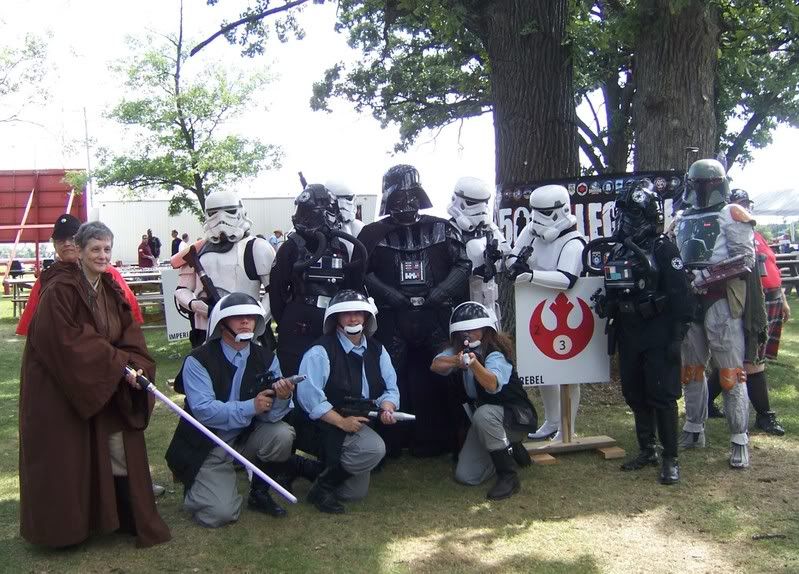 Camp Quality is an International organization dedicated to give children under 18 a chance to go to camp for a week and just be a kid....not a kid with cancer.
The Midwest Garrison was contacted over a year ago to come out to Camp Quality in Frankfort IL to help entertain the kids on their last day of camp 2008. In that year I have learned a lot about Camp Quality, and learned a lot more yesterday. We were contacted by John Allen from the Romeoville Police Department (veteran Camp Quality Volunteer) and he heard about our group from one of the managers at a Brunswick Fun Zone that we had done a child's party at. The manager was blown away by the response to us at the Fun Zone and said she would always remember our appearance there.
As noted, this was a year long preparation. I volunteered to be event coordinator as the Camp was near where I live. I immediatly thought it would be a great idea if we could provide each child with a toy. I posted for toy donations from our members and began to write to different toy manufacturers. I was turned down by all of the manufacturers ....with the exception of Hasbro/Milton Bradley. Our members, as always came through.
This was the result: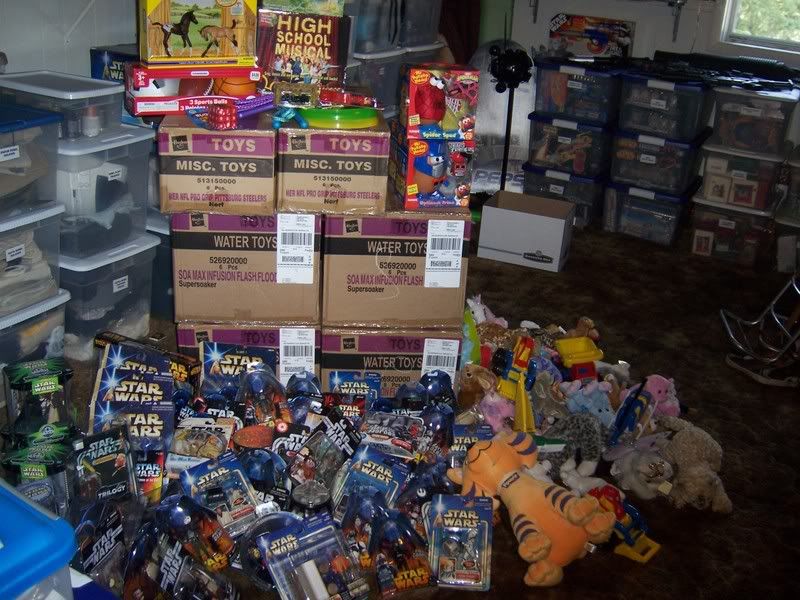 More piled up after this photo was taken.
Where we had a lot of toys for younger children we thought that perhaps gift cards would be better for the older ones so that they could purchase what they liked. Enter Stephanie Hicks (TK9052). Stephanie contacted a local business in Schererville IN and set up a fundraiser. Members of the 501st, Rebel Legion and Jedi Assembly were scheduled to be on hand at the Quest Bar and Restaurant for photos and a raffle. All proceeds went to purchased gift cards. Stephanie even donated her TK bucket to the raffle, I sewed a Jedi robe and had a R2 snack bowl in the raffle. We also had two CIII Vaders (courtesy of Mike Plesha - SL356) in the raffle. All told, we netted over $800.00. The mission report from Quest appears here:
http://www.midwestgarrison.org/forum/vi ... php?t=8534
Before I go further...
at this time I would like to thank other toy contributors that donated copious amounts of toys:
Mike Plesha (SL356) donated a HUGE amount of Star Wars toys
Cheryl Whitaker TI3127 donated 68 stuffed animals along with several other boxes of toys.
Cherri Kryzowski (TI4026) and
Edward Kryzowski (TI4438) donated several large bags of toys
Ron Mitchell of the Bloodfin Garrison sent up another large bag of toys
Rebel Marlyn C donated some great items for girls
Vicki Silva (TI7118) also keyed in on toys for girls
I apologize right now if I forgot anyone...there was just so much to remember.
The toys and gift cards were delivered to Camp Quality last week on the day before camp was to begin. I gave everything to the Camp Director (My Jeep was full - top to bottom and front to back). I left the choices of distribution to her. She reported to me that all of the boys got at least 3 action figures with an additional larger toy and all of the girls got several items.
Now that we had toys...it was what to do during our visit to Camp Quality. I have done many BD parties so I decided to adapt the "Target Shoot" indoor game to the outdoors. I made targets out of plywood for two teams - The Imperials and the Rebels. The Imperial team (wearing my Officer hat) would shoot at the Rebel target and the Rebel Team (wearing my spare RFT helmet) would shoot at the Imperial target. Each "shooter" got 10 nerf projectiles to see as many points as he could get..point values ranged from 1 to 3 points:
one of the targets during set up: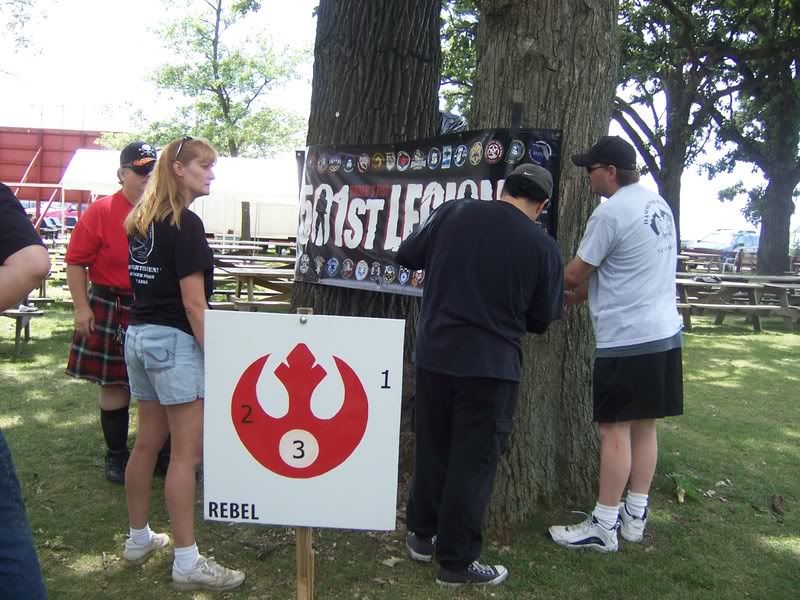 The winner got bragging rights and a certificate that I made up on the computer...one for each team to the highest score: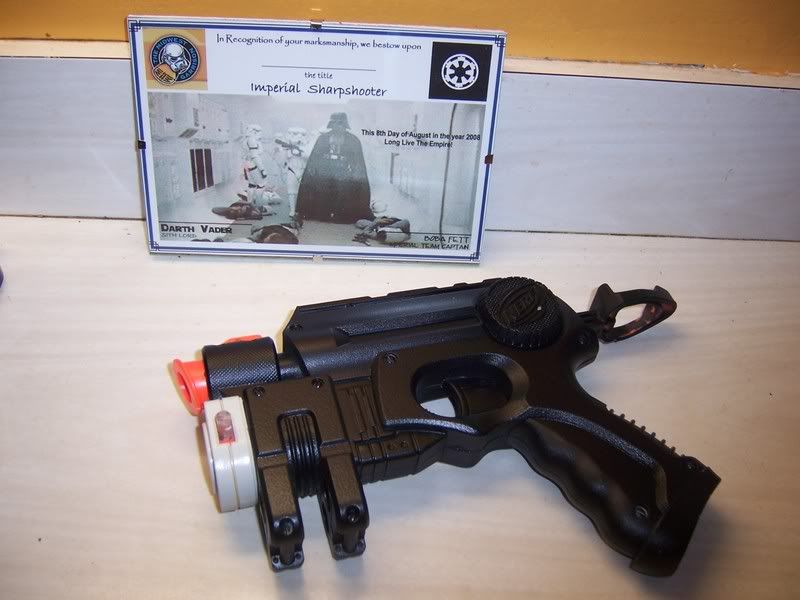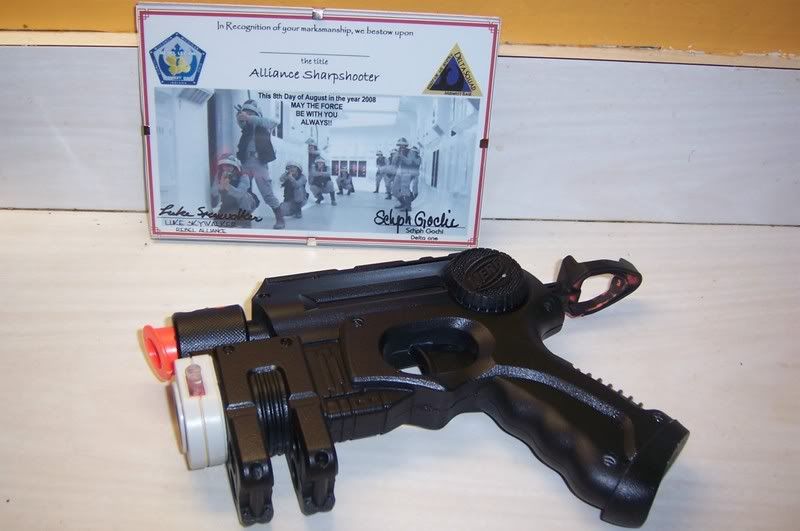 The Imperial Sharpshooter:

The Rebel Sharpshooter:
Our members assembled right on time and suited up....where we had to make some revisions in our schedule due to last minute changes and updates from Camp, our members took it in stride and went with the flow.
This final day of Camp is huge for the kids. In addition to our visit, they had a big dance in the evening so a lot of the girls didn't make the Target Shoot as they were getting the "princess treatment" by volunteer hair dressers and nail artists for their big dance.
The Target Shoot wrapped up and we moved to "Hot Thermal Detonator ...I had my back to the group as I was manning the CD player...when I hit pause and the music stopped...whoever had possesion of the detonator was out. I laughed everytime the music stopped because all I heard was a lot of groaning behind me...the two final contestants got one each of the super soakers from Hasbro.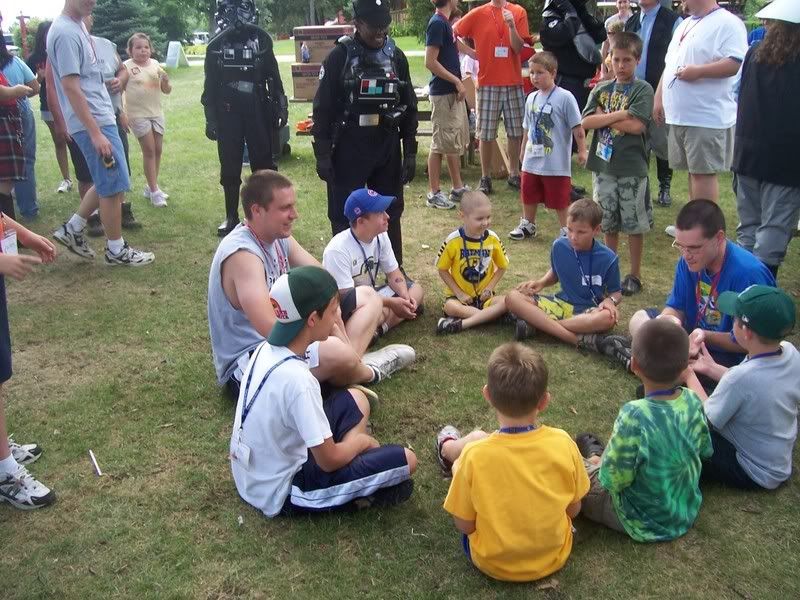 While the games were going on Jim and Emily DeJan were applying temporary tattoos to anyone who wanted them.
After we were all done with the games....we began to get packed up...but ...before we left we got thanked by one of our contacts at Camp. She gave me the "Thank you" photo from all of the Campers and let me know that the gift cards that we donated would help to purchase items for the Campers for 2009. All of the people that "work" at Camp Quality are volunteers and they know best what the needs are. Other items of note is that each of the Campers has a volunteer companion who is with their child 24/7 for the entire week of camp. These volunteers are completely AWESOME!!
Also of note...there were two children who we did not get to meet...they passed away just this past week. I don't think I need to tell anyone what sadness this brings.
Another note...
Each of the cabins gets to choose an event during camp to have a photo taken...one of the cabins chose to wait for us....so this photo is of that cabin's children and their companions....thanks guys!
And now for the final Thank You....to our participants...many of you traveled great distances....took vacation days....went with the flow...
displayed great heart and generosity....and ...well...you rock!
Participants (and gods and godesses imho):
Rich Markle (SL1781) Darth Vader
Rudy Grasha(BH3620) Boba Fett
Cheryl Whitaker (TI3127) RFT Rebel Legion/Jedi Assembly
Kent Heath (TK1692) RFT
Vicki Silva (TI7118) Tie Pilot
Ed Silva (TK4544) Sandtrooepr
Patrick Engle (TK6312) Stormtrooper
Cherri Kryzowski (TI4026) Tie Pilot
Edward Kryzowski (TI4438) Tie Pilot
Jim DeJan (TI3853) Support - Tatoos
Emily DeJan (TI1802) Support - Tatoos
Raymond Hartsock (TK1397) Stormtrooper
Ed Pekin Stormtrooper -freelance
Pat Phinney Jedi - The Jedi Assembly/Rebel Legion
Kelly Semande New Recruit - Death Star Gunner
Phyllis Schulte (TK1951) RFT -Rebel Legion/Jedi Assembly
After we were done...those that could come were invited to my house for beer and pizza....I am sorry that not all could make it...and thank those that did come...it was nice to sit back, relax, and shoot the breeze.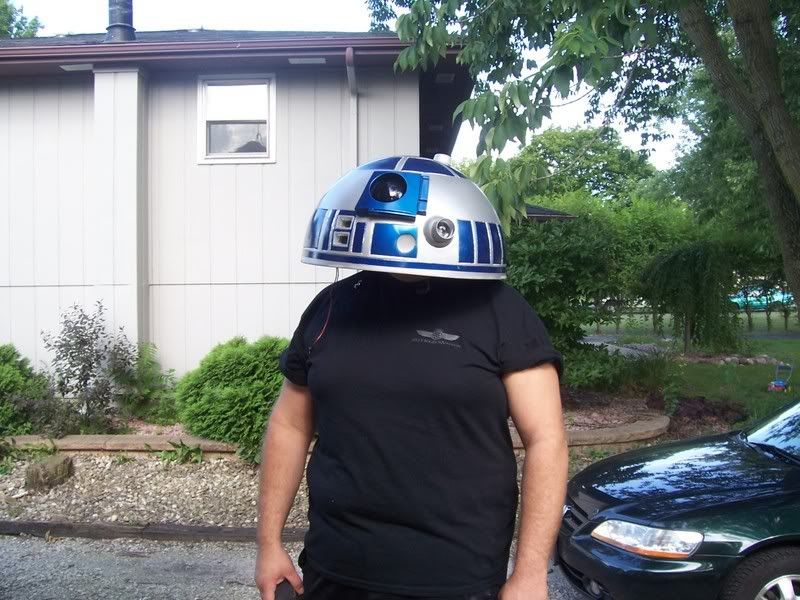 I chose this photo so the rest of you could see the garden...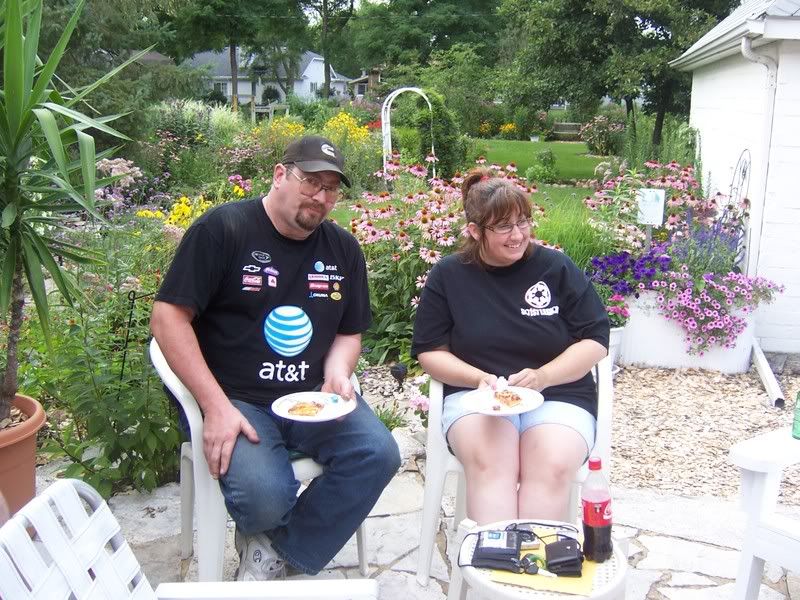 One final note....before we left the Camp Director gave me a copy of last years Camp Yearbook and said when the 2008 Yearbook is published she will send me a copy....after looking at the 2007 book...our group should have a lot of photos.....and I will share it with all when it arrives.
These are my photos...they document the entire journey from the arrival of the first toys....through the little gathering at my house afterward..
http://s201.photobucket.com/albums/aa30 ... %208-8-08/