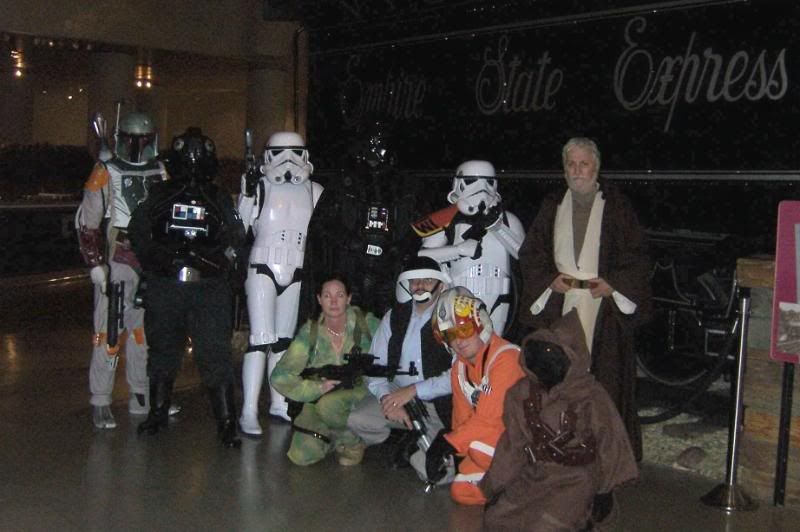 The Citadel?
Two days ago, I had no clue what the Citadel was. Today, I know what it is.
One of the special requests that we received from the Musuem of Science and Industry to costume the "Star Wars-Where Science Meets Imagination" exhibit was for a Citadel Party. The event was posted but due to the fact that it was a Wednesday night, there wasn't too much response. I called into the Musuem on Monday to report that we only had about 4 costumes and there was dead silence on the other end of the phone.
It was then explained to me that the Citadel's founder and CEO was THE person responsible for bringing the exhibit to Chicago. Mr. Griffin is a HUGE Star Wars Fan in addition to being a successful businessman. Mr. Griffin decided to host a special private party for his employees, family and friends at the MSI to go and enjoy the exhibit.
Now it was my turn for dead silence. Phone calls went out, begging and pleading was done and in the end we were able to provide 10 costumes that gave the Citadel a nice mix of Original Trilogy costumes.
To all of our members who worked a full day at their real jobs, tossed their costumes into their tubs and made their way to the Museum and pressed the flesh with the Citadel...my eternal thanks to you. I know I say that after every outing....but this one was an extraordinary effort.
To our troops (in no particular order)
To Brandon Grasha (Rudy's son)-- our little Jawa....YOU were an awesome ambassador as you made your way to make sure each child was greeted properly.
To Rudy-thank you so much for volunteering to come on like 4 hours notice and bringing the "Fett-man" to life for the son's of the Citadel's COO (whose sons came dressed in their Fett best - one as Boba and one as Jango)
To Jason - who risked divorce court to come down as Vader
To Augie - who was everywhere and had to do everything - I was secretly giddy that you swapped out of your Fett and into RFT....
To Kim - Augie's wife and now Endor Commando - also was everywhere and did everything as she was also a huge ambassador and greeted everyone. Also serving with Augie as 3-PO's handler....a huge job indeed!
To Tom - for hauling not one but two costumes...including the iconic C-3PO. With this being my first time attempting to get you into the C-3PO...I am blown away at the complexities of the costume and the fact that I thought we were going to break one of your ribs putting on the chest piece....there are no words.....period
To Kathy - as she swept in from a day of work at lightspeed - changed into her armor in record time - and kept our night moving along.
To Andrew - crunching numbers all day....battling public transportation...and still got the job done....and got to the Museum and suited up in record time.
To Joseph - yet another trooper that put in a full day's work and even though he could not be there until a little later he still suited up for the "second shift"
To Lionel - one of the folks that got a frantic call from me on Monday.....who also turns 65 on Friday....it is not an event without our Ben Kenobi

Our Participants:
(in no particular order)
Tom Schaefer - TK118 and C-3PO
Augie Webster - BH9989/AT2441 - Rebel Fleet Trooper
Lionel Bottari - Ben Kenobi RJ217
Jason Patterson - SL1719 - Vader
Andrew Marsh TI2079/AP1382- X-Wing Pilot
Kim Webster - Endor Commando
Rudy Grasha – BH3620Boba Fett
Brandon Grasha - Jawa
Phyllis Schulte - TK1951/AT-RJ695 - Stormtrooper
Kathy Van Beuningen - TK9989 - Stormtrooper
Joseph Flores – TI 1296 Tie Pilot
Members of the 501st (thanks to Tom) also sent home with the COO a MWG Honorary Membership certificate to be given to Ken Griffin in thanks for bringing this SW Exhibit to the citizens of the Chicagoland area.
In addition to our usual pressing of the flesh and posing for photos there was much goofing off do be done and the guests seemed to love the antics from sneaking up on them as they viewed the exhibit, to Tom and I in Stormtrooper chasing Augie in Rebel Fleet Trooper through the knot of tables, to hamming it up at the Millenium Falcon....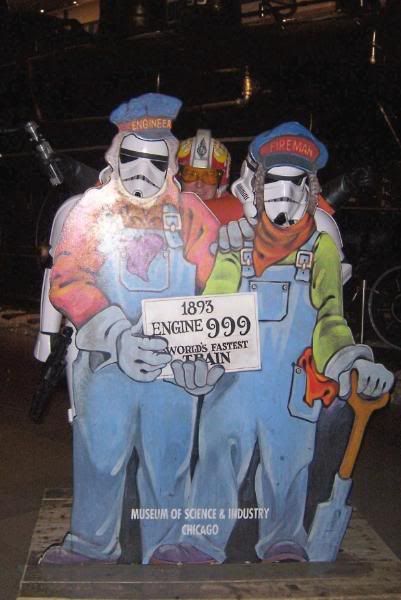 A good time was had by all....our participants, the Citadel's guests, and the employees of the MSI who always enjoy our presence and always let us know that.
more photos:
http://s201.photobucket.com/albums/aa30 ... /?start=20
Yeah...I can tell how productive I am going to be at work today...now that I have that whole 2 hours of sleep...
Troop on!
Gochi out...