Greetings Troopers!
I apologize for the delay in this official report. but here goes.
Late this past summer I had thought about a 'laid back' event for troopers to get together and have a chance to socialize and hang out. A fun time for us to get in touch with everyone else and just 'have fun' Well the idea of having a 'fun' troop at Tilted Kilt was born.
In speaking with the General Manager, he was taken with the fact that the 501st does so much for charity. so he decided to make it a charity event. Which turned out to be....Legendary!
about 20 of us showed and around 13 of us were in armor!
We all arrived on 10/30 at aroun 8pm. Suited up outside and entered the establishement. The first three in were myself, Whinter, and R2-S5 to make sure that it wasn't too crowded.
Once the place was secured the 'all clear' sign was given and all the troopers marched in. the final being Darth Vader gaurded by two sandtroopers!
Video of the INVASION:
http://www.youtube.com/watch?v=MLR0k9ZFyio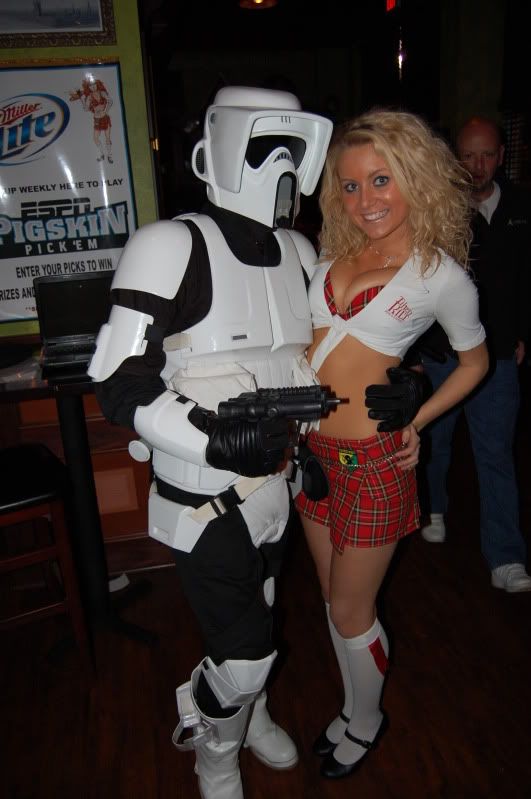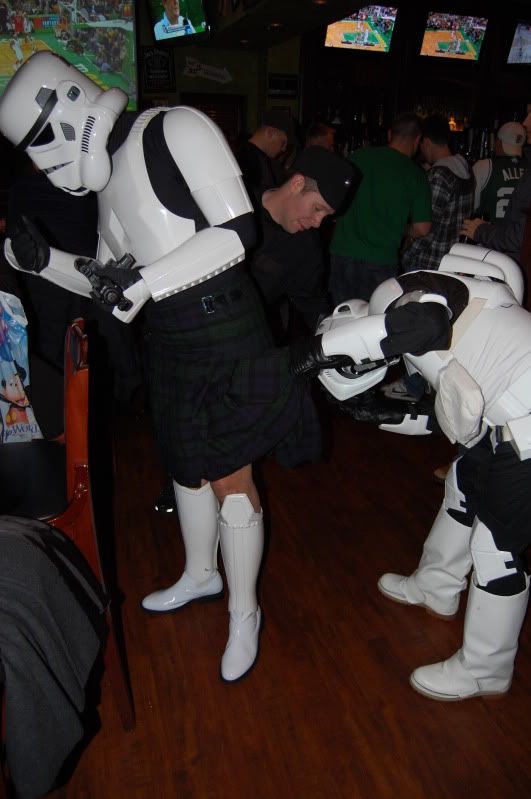 We mingled and talked with several fans and patrons. The general managers were so thrilled to have us as well as the waitresses.
Needless to say many people got a kick out of seeing us there and when they realized why, they gladly donated.
At the end of the night, we raised $200.00 For Make A Wish, in only a little over an hour of trooping.
Many laughs were had as well as good memories.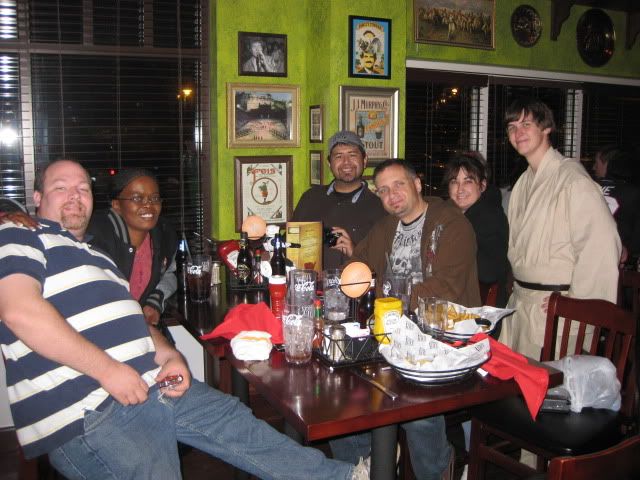 Those that participated in this were the following:
3166 - Joe " River " Rivera
0101 – Aimee Jorgensen
0826 - Damian Jorgensen
4050 - Darryl Sorrensen
8310 - Rob Hamilton
6312 - Pat Engle
9442 - Chris Schwarz
3127 - Cheryl "Whinter" Whitaker
0118 – Tom Schaefer
3697 - Patrick Higgins
4438 - Ed Kryzowski
4026 - Cherri Kryzowski
7155 – Mike Bollow
4013 – Morgan Easley
0549 - Bob Merritt
8114 – Jim Norman
8036 - Don Deutschmann
3052 - Steven Szyndrowski
If someone's name is missing, please let me know.
I am looking forward to doing this again next year. Hopefully everyone else will too!
Thanks truly goes to ALL the troopers that took the time to come and make this happen. It really would not have happened without you guys there and you totally made this an incredible event.
My bucket off to everyone that participated.
-River