It is a well known fact that members of the Midwest Garrison and the 501st as a whole, are always willing to open their hearts and wallets when they are asked.
Today, we opened something a little different. We opened a vein and donated blood as part of the current Legionwide Charity Challenge.
Donating blood is truly the gift of life. Blood is not something that can be made in a factory, but only comes from us. Especially with the two recent earthquakes and the summer season (which seems to always demand more blood) upon us, the need has been a little greater.
I contacted LifeSource at the end of March to see if we could sponsor a Blood donation day and they were excited to work with us. Flyers and e-mails were mailed letting Star Wars fans in the South Suburban area know that we would be at their Orland Park facility on May 22, 2010 from 9:00 AM to 1:00 PM.
Huge crowds were not expected as donating blood is probably not on everyone's list of favorite things to do. The day brought a stead stream of donors to the facility and I will always remember the one gentleman who wanted his photo take with R2-D2.
Our donors for today (we made sure they were cheered on)
Rudy Grasha - BH3620
- Boba Fett who did a procedure that is actually like donating two pints of blood as the pint is removed...part of the blood stays removed. The fluids are put back into the person - and then another pint is removed again.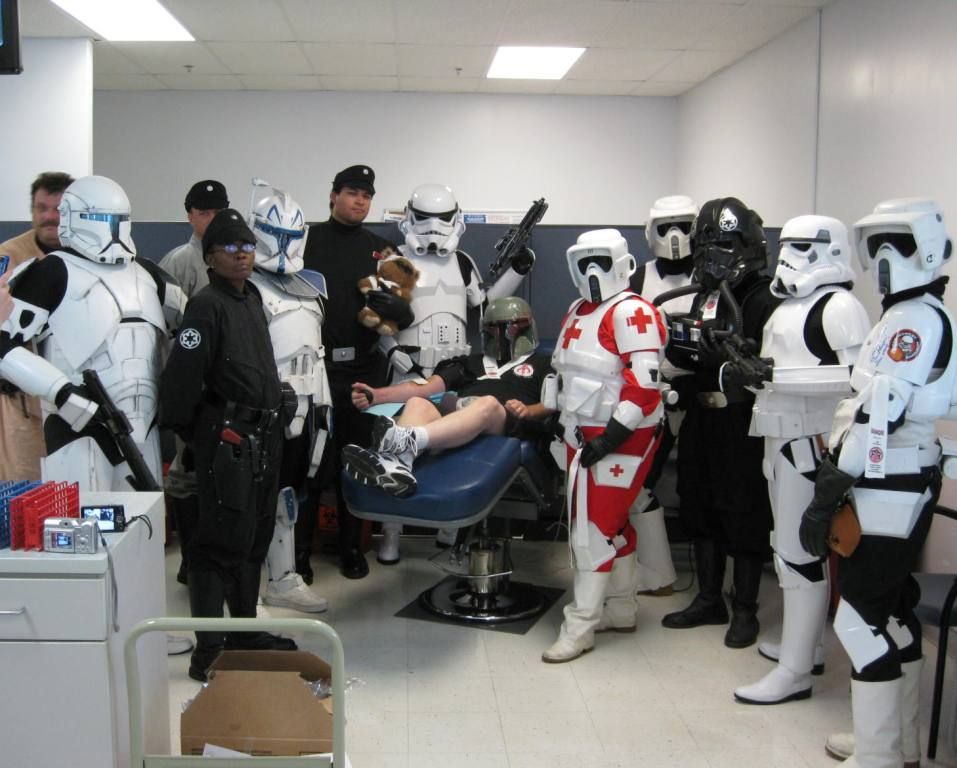 Cherri Krzyzowski
- TI 4026 (Tie Pilot)
Jim Norman
- TK 8114 - (Stormtrooper)
Thomas Turner
- IC 4913 -Imperial Crew
MWG CO
Aimee Jorgensen -
River's better half -
Alejandra Lule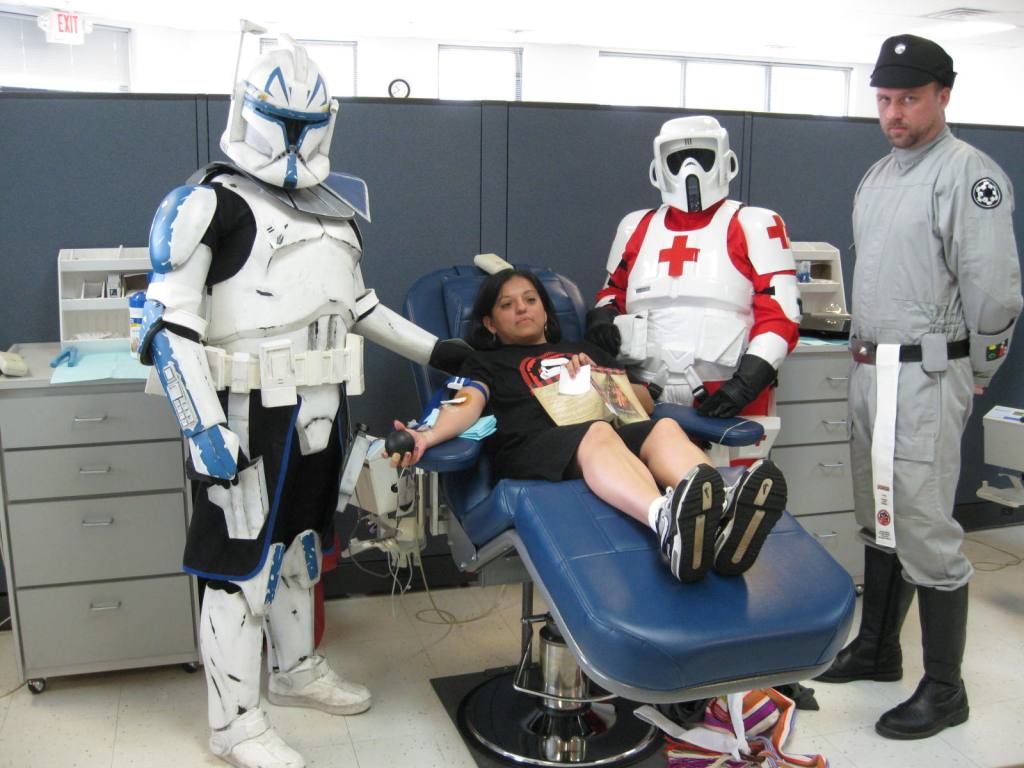 and myself -
Phyllis Schulte
- ID 1951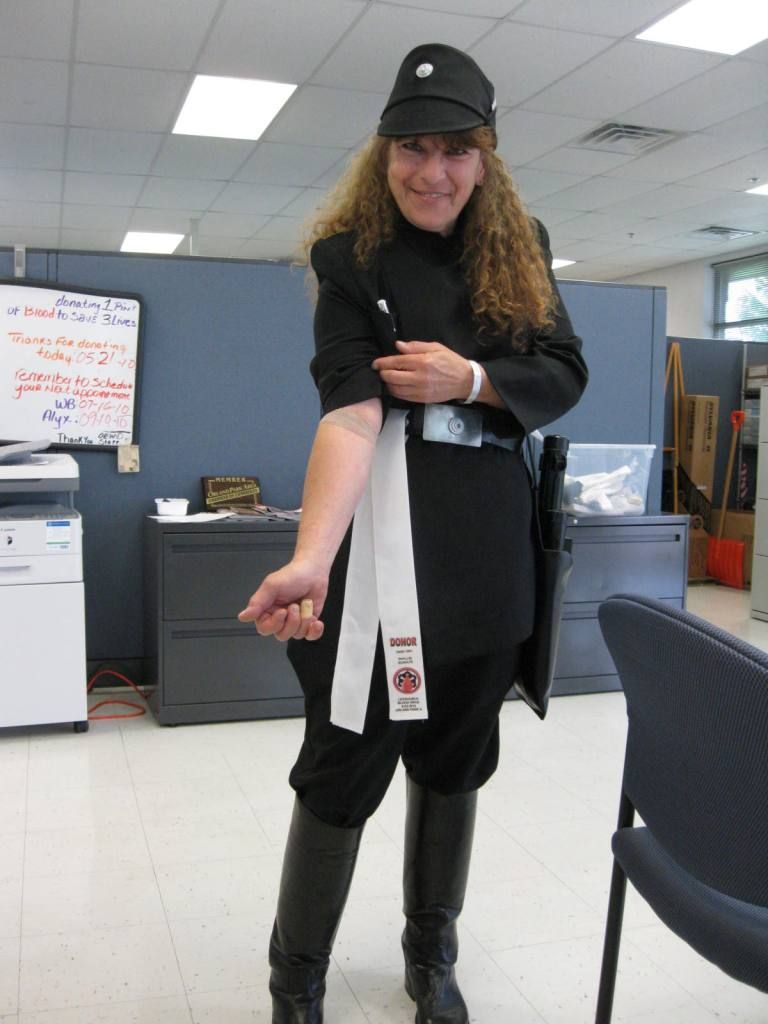 We spent time inside the facility...
and out near the street - hoping to attract a little more attention...
Artoo Gochi met a new friend...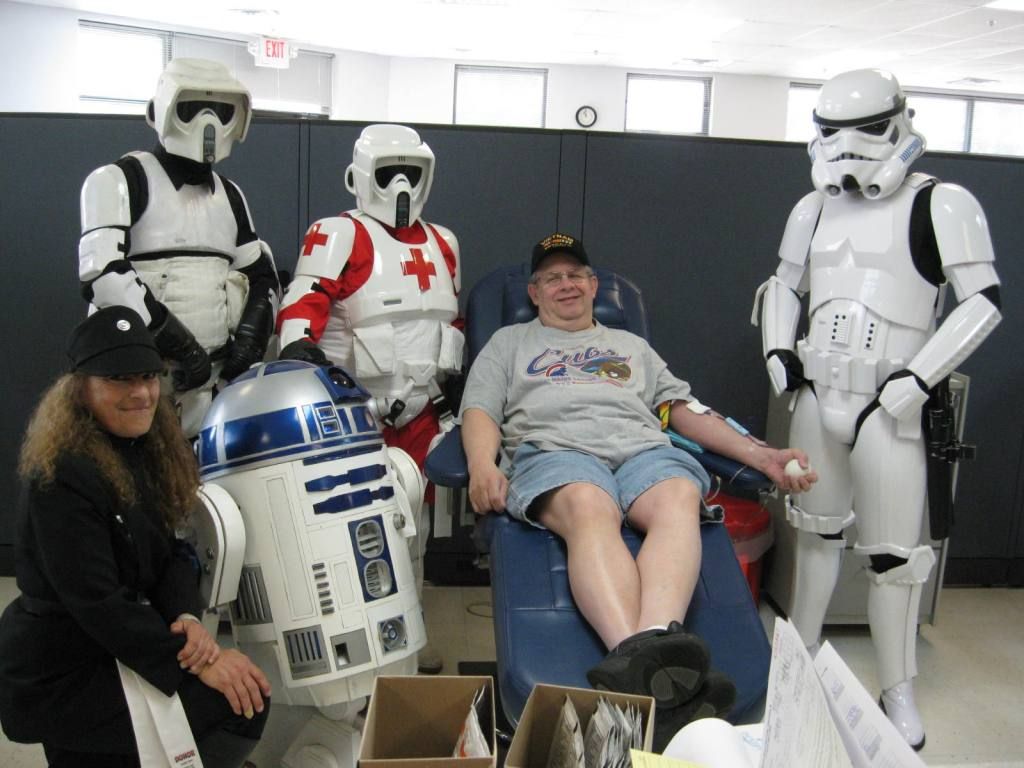 It goes without saying that I wish to give huge thanks to O'Brien Jenkins - Team account manager for LifeSource Chicago - who poses here with Artoo
I gave O'Brien a small certificate of thanks for the advertising and facilities that they shared with us.
All of the other ladies who were working today were saints for putting up with us. Sadly, when I went in to see if any of them would like to take a photo with us as we wrapped up - they were all busy with patients...so...I guess in a way...that is a good thing.
THANKS AGAIN TO ALL OF OUR PARTICIPANTS!!
Thomas Turner - IC 4913 -Imperial Crew -
Donor
Cheryl Whitaker - TB 3127 (Medic Scout)
Aimee Jorgensen - TB 0101 (Scout) -
Donor
Kyle Dorethy - TI 4982 (Tie Pilot)
Joe Rivera - CC 3166 (Captain Rex)
Steve Szyndrowski - ID/TK 3052 - Imperial Officer
Jim Norman - TK 8114 - (Stormtrooper) -
Donor
Phyllis Schulte -TK/ ID 1951 Imperial Officer-
Donor
Rudy Grasha - BH3620 - Boba Fett -
Donor
- 2 pint procedure
Matt McDonald TK8148 - Stormtrooper
Zach Love - TB 3135 - Biker Scout
Cherri Krzyzowski - TI 4026 (Tie Pilot) -
Donor
Ed Krzyzowski - DZ4438 (Tusken Raider)
Augie Webster - CC 9397 - Clone Commando
Alejandra Lule -
Donor
Artoo Gochi - Droid
Kevin Skiera - future TK (wearing his just finished TK)
Darcy Jorgensen - future Scout (wearing Scout)
Brendon Grasha - photographer
Remember too that all MWG members can add to our blood counts by making an appointment and donating at ANY facility, wear a 501st T-Shirt and have someone take your photo as you donate.
More photos....
and....I am sure there will be lots more additions to the cache of photos..
http://s201.photobucket.com/albums/aa30 ... 0/?start=0
Kevin's Photos:
http://s180.photobucket.com/albums/x36/ ... 5-22-2010/
Cheryl's Photos:
http://s180.photobucket.com/albums/x273 ... ?start=all