EVENT: Justin's 9th Birthday Party – Elgin, IL
DATE: Saturday, October 22, 2011
Participants:
Neil Auer – TK-3446
Aimee Jorgensen – TB-0101
Brian Troyan – TK-8968
Cheryl Whitaker – TB-3127
(4 participants x 1 hour)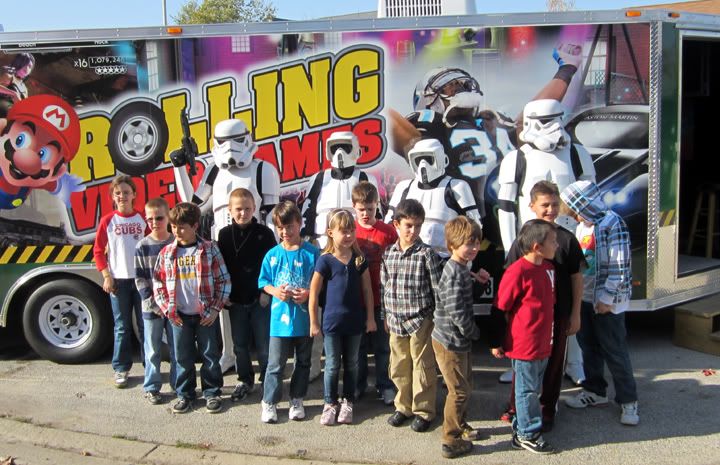 Justin's Aunt Michelle contacted us first about her nephew's birthday party. She is a huge Star Wars fan and is very interested in becoming a 501st member. We later heard from Justin's mom, just checking in and to let us know a little more about her son and his absolute love and knowledge of Star Wars. Well, we were able to come through with a visit from 2 Stormtroopers and 2 Biker Scouts.
When we arrived, the kids (about a dozen) were piled into a mobile game truck that mom and dad had hired to entertain the kids. While they were all enclosed in the game truck, we snuck in to the house to suit up. At 3:00 we went out to the truck and waiting for Justin and his guests to come out for their Star Wars surprise; and a definite surprise it was! They had no idea we were there and they were all wide-eyed and open-mouthed as each of them emerged from the truck. Justin was so incredibly polite, and so intrigued. He even told me of a plan that he thought we should use the next time we (the scouts) encountered a battle with the rebels on speeder bikes! And we were there even 10 minutes and he was already each of our hands, thanking us for coming to his party.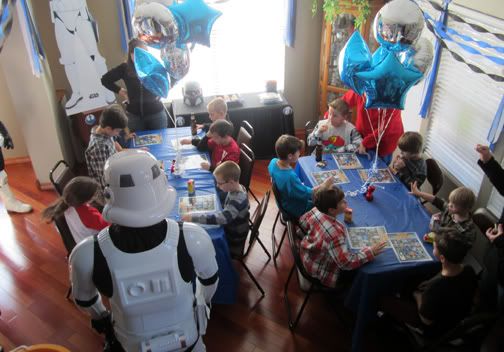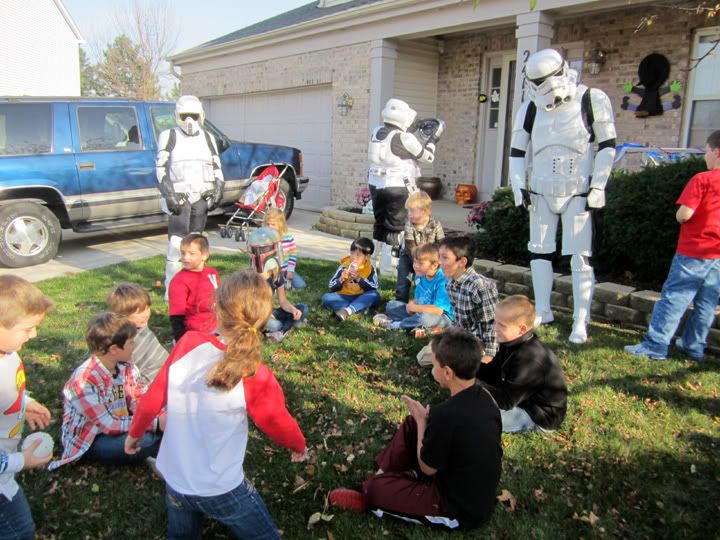 We took several photos with all the guests (kids and adults), played 2 games of Star Wars Bingo and 2 games of Hot Thermal Detonator (which I was quickly correct that the "detonator" we were using was really a lightsaber training tool). LOL!! Smart kids! Then we sang Happy Birthday to Justin and made our exit.
Everyone was so amazed and thankful for our appearance, and I believe we will be gaining a new member out of this event soon! And I wouldn't doubt it a bit if we didn't have a few more members in about another 9 years! Justin would be one, and the other would be a little girl that went around with a Boba Fett bucket on throughout most of the party, letting us know every chance that she got that she was keeping her eyes on us! LOL!
This was one of the nicest families and I'm so glad that we were able to be there for Justin's special day. We had 3 different people that wanted to make donations for our appearance yesterday. However, Lisa's (Justin's mom) office will match her charitable donation, so we should hear back very soon about the donation total and to which charity(ies) that they are donating to.
Thank you very much to Neil, Aimee and Brian for coming out for this party! I know everyone really had a great time!!
Photo Link:
http://s180.photobucket.com/albums/x273 ... ?start=all