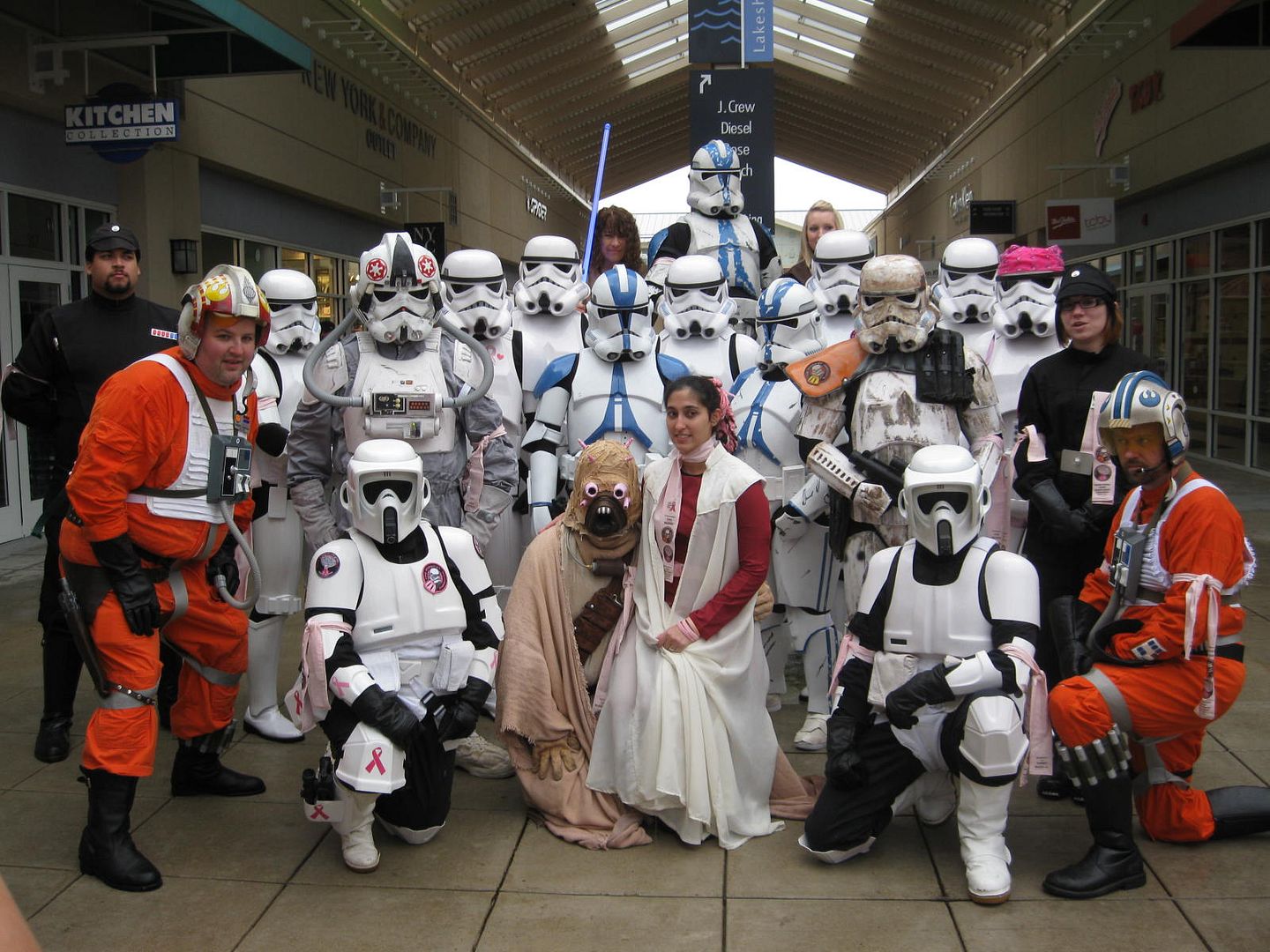 "Star Wars" is the story of epic battles.
Each October the members of the Midwest Garrison and Nar Shaddaa Base fight the most epic battle of all..
the battle against breast cancer.
Fundraising for this event started in April of this year at the hugely popular Joliet Library Star Wars Day event. Donation buckets were set up at the front desk of the Library and patrons who came to enjoy the day were encouraged to make a donation for our Making Strides effort.
Fundraising continued on through the summer with t-shirt, patch, and even homemade jam sales. Buckets were also set out at another couple library events and in September a "Donation Station" was conducted in Algonquin with another one done on October 1st in Mokena.
At last count, our team raised $4,779.00. This was done with no corporate backers and no matching funds. This money was raised by hard work and dedication of many of our members. Team 501st Legion and Rebel Legion United came in 3rd place out of 65 teams of fundraisers. Not too shabby for the most unusual team of breast cancer fighters you are likely to find....anywhere.
We have had great weather the past 5 years of this event, so it was inevitable that bad weather would get us eventually and this year it did. Steady rain fell as we gathered in the parking lot of the event and suited up. The rain continued the first lap of the walk. While other walkers from other teams walked with the shelter of an umbrella, our team toughed it out "al fresco" and we all got plenty wet. But never let it be said that the rain dampened any spirits.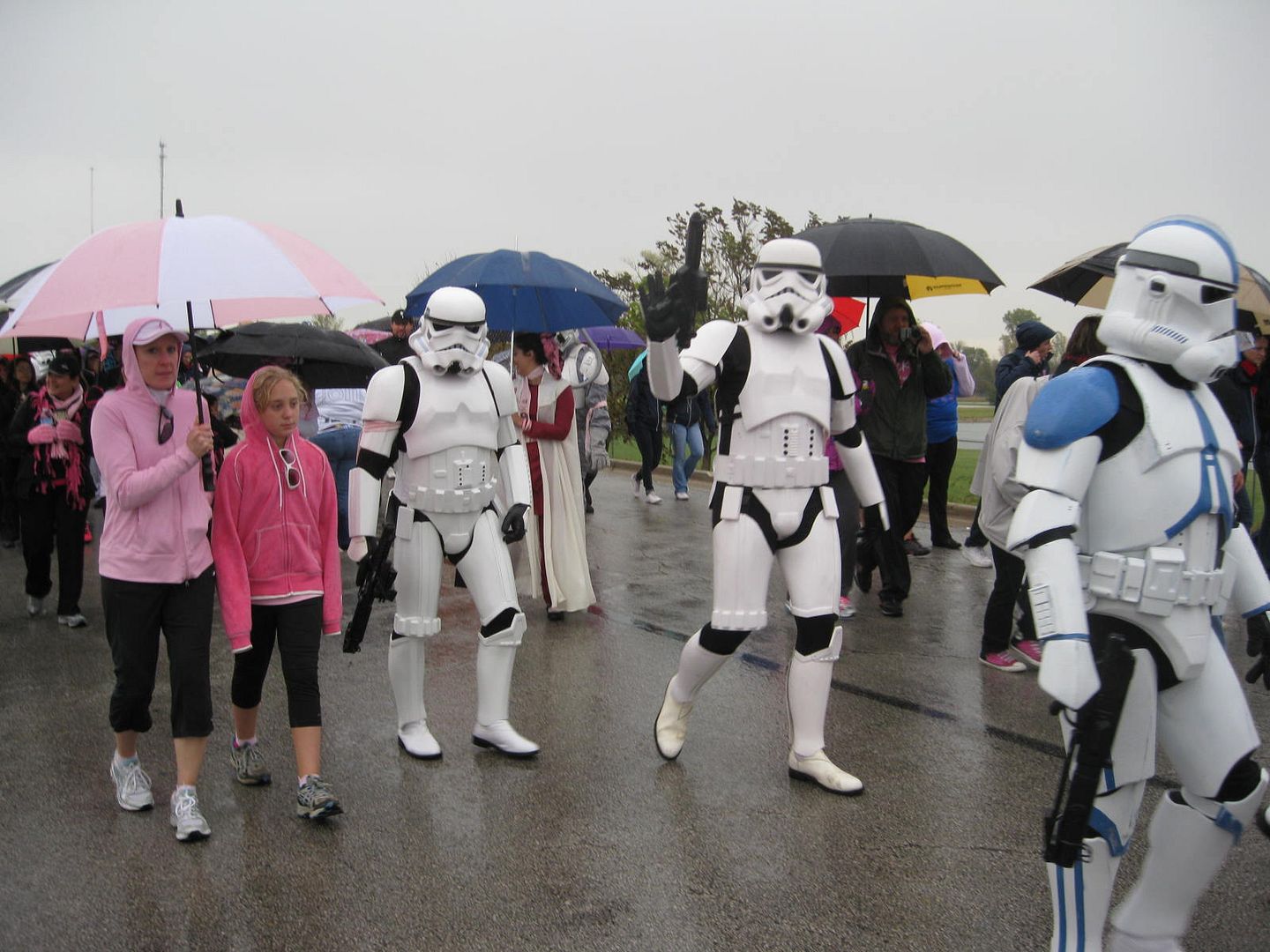 Our team was led by breast cancer survivor and mom of MWG and NSB member Cheryl Whitaker (Whinter Fenlynn) Rosa Winters. Rosa faced the weather in the same way she faces her disease...with courage and resolve.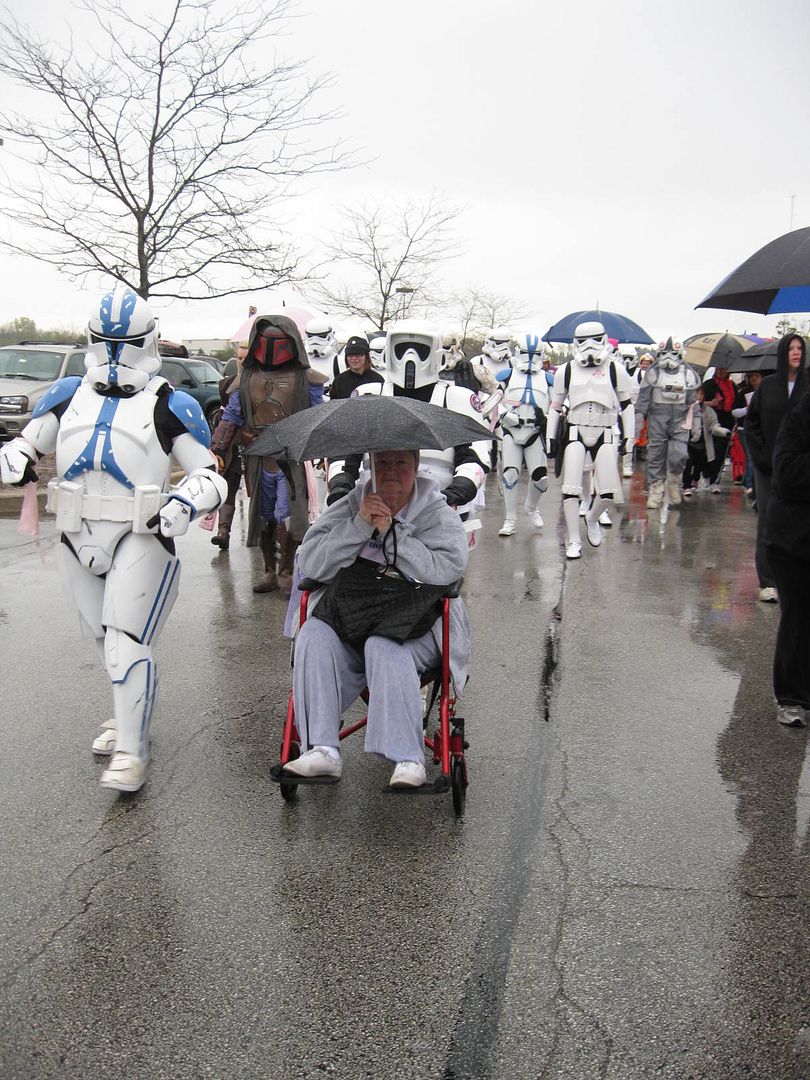 In honor of Rosa and all survivors, a basket of goodies was place by our team at the Survivor's tent. As I picked up this basket (gladly I did find it empty) at the end of the event, the lady in charge of the Survivor's tent said she was constantly being asked by participants if they could buy the armband attached to the basket...I told her...for a donation ...she should have sold it..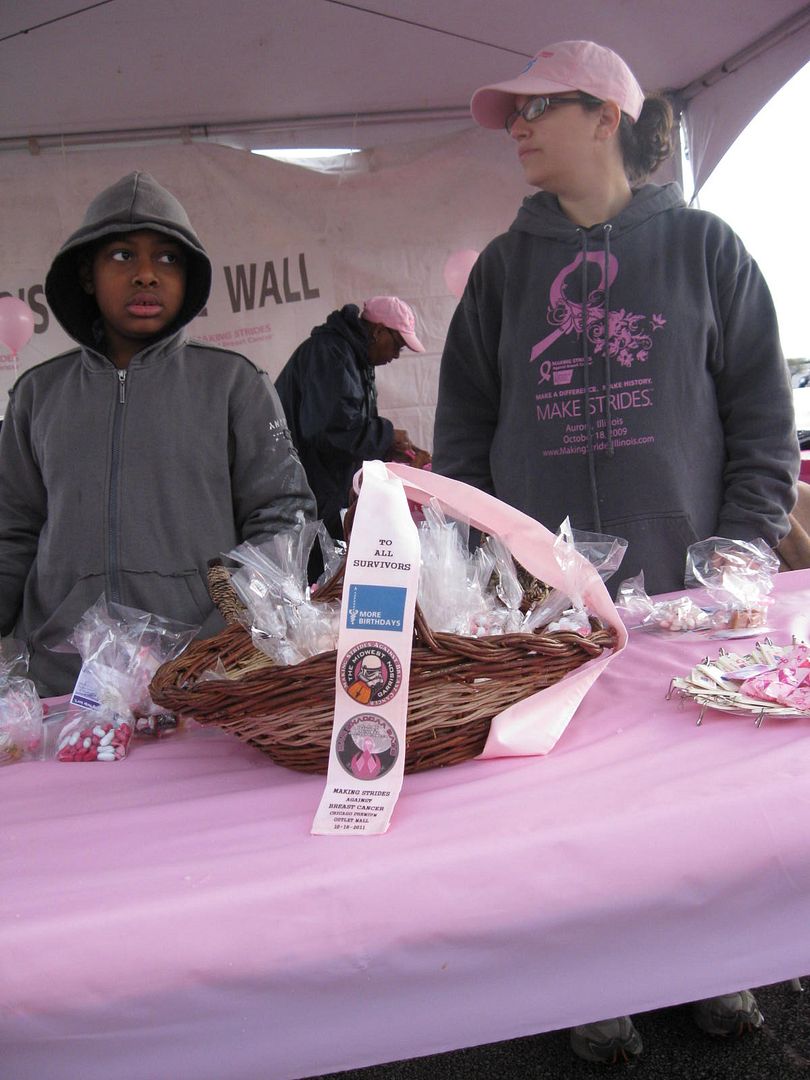 In addition to the spiffy armbands (for a splash of pink) several members also carried very special armbands. These armbands remembered some family and friends that have been lost to cancer. Armbands were "purchased" for donations made in memory of these cancer victims by some of their family.
Wearing special armbands were:
Jen Loomis wore Laura Guthrie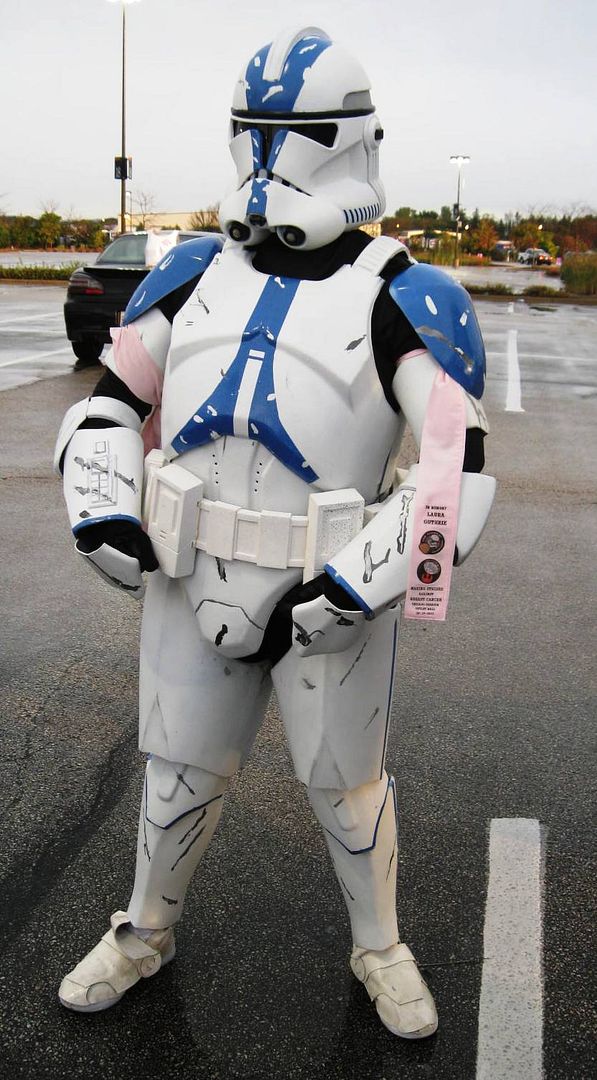 Brian Troyan wore Stacy Vershay
Jessica Hudak wore one of the two Roseann Christopersen armbands.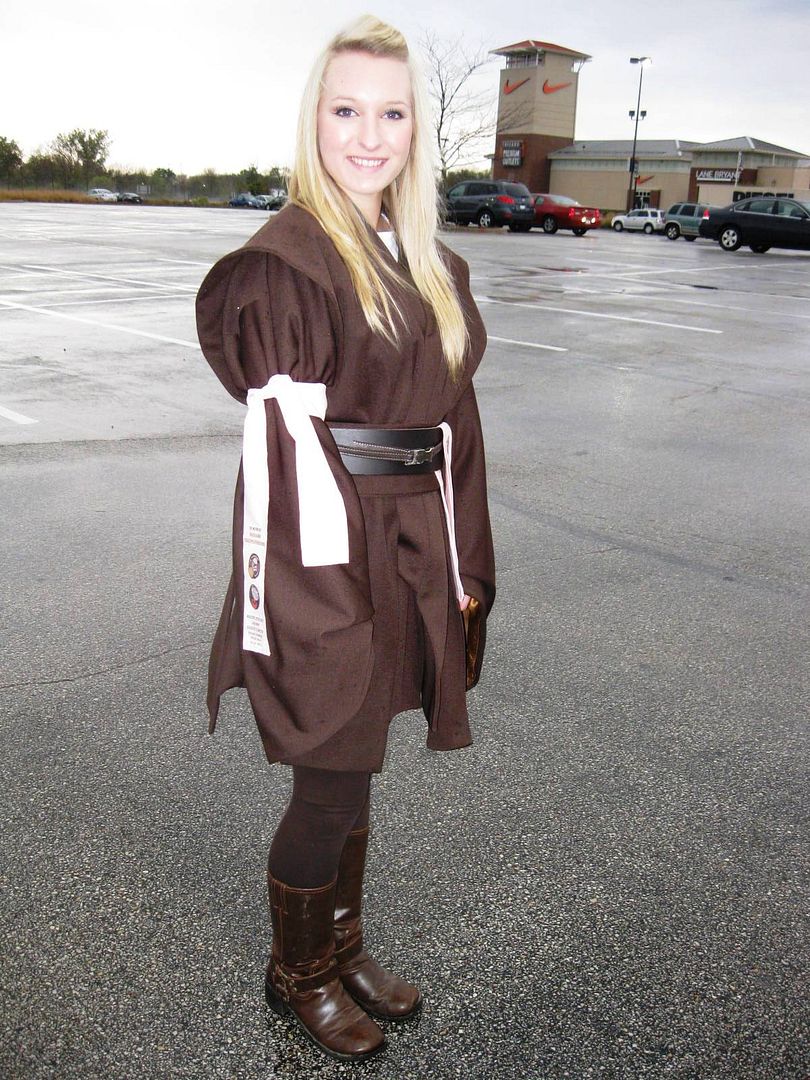 The other one was worn by Anthony Day
Kevin Glass wore one of two Jeanne Goestenkors armbands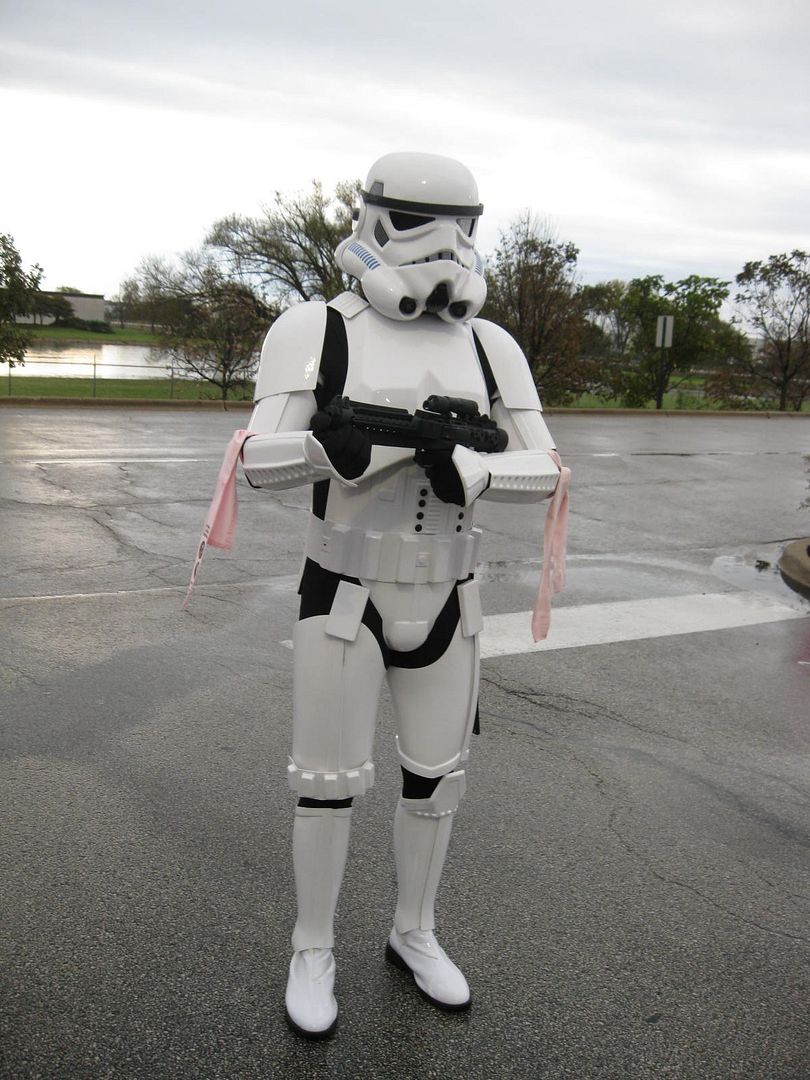 And Thomas Turner wore the second one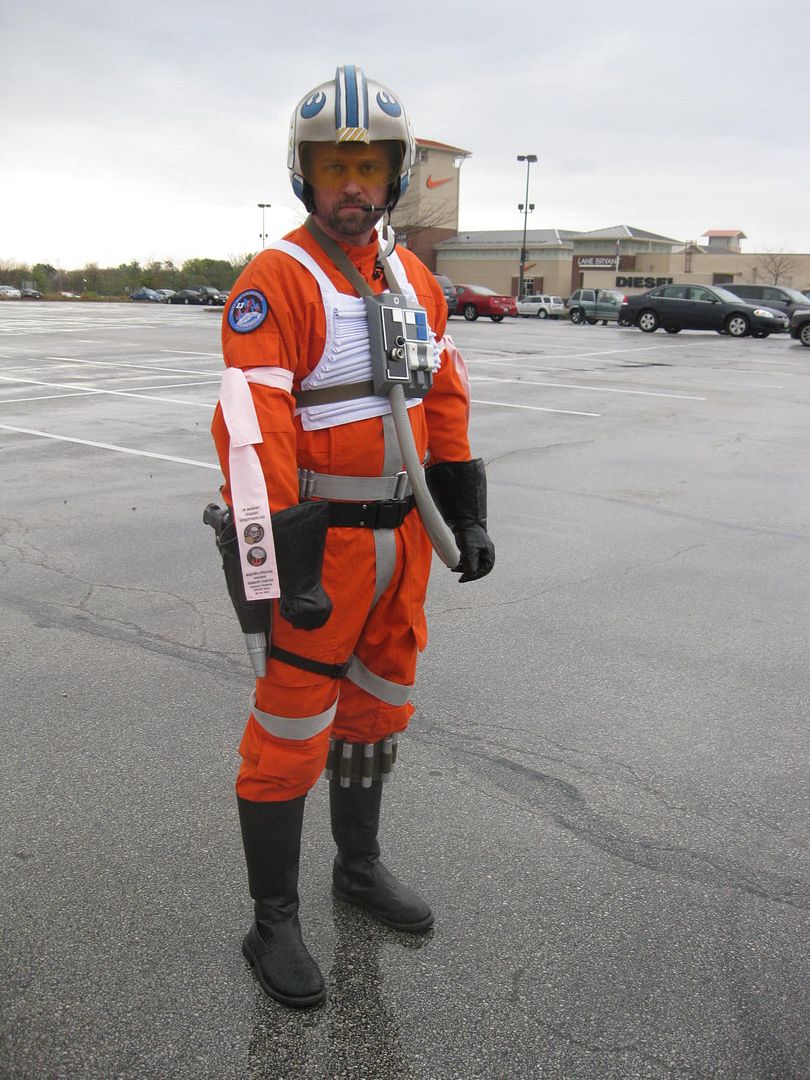 Matt McDonald wore Barry Polansky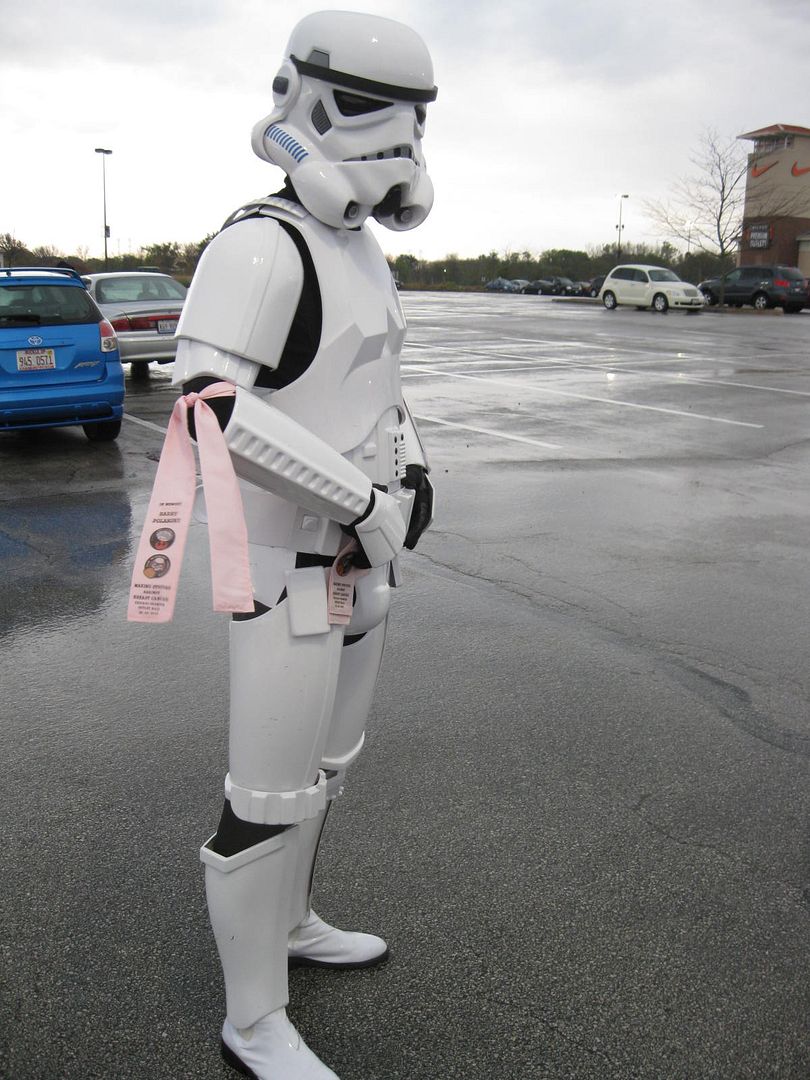 Janine Jender wore Jan Balsitis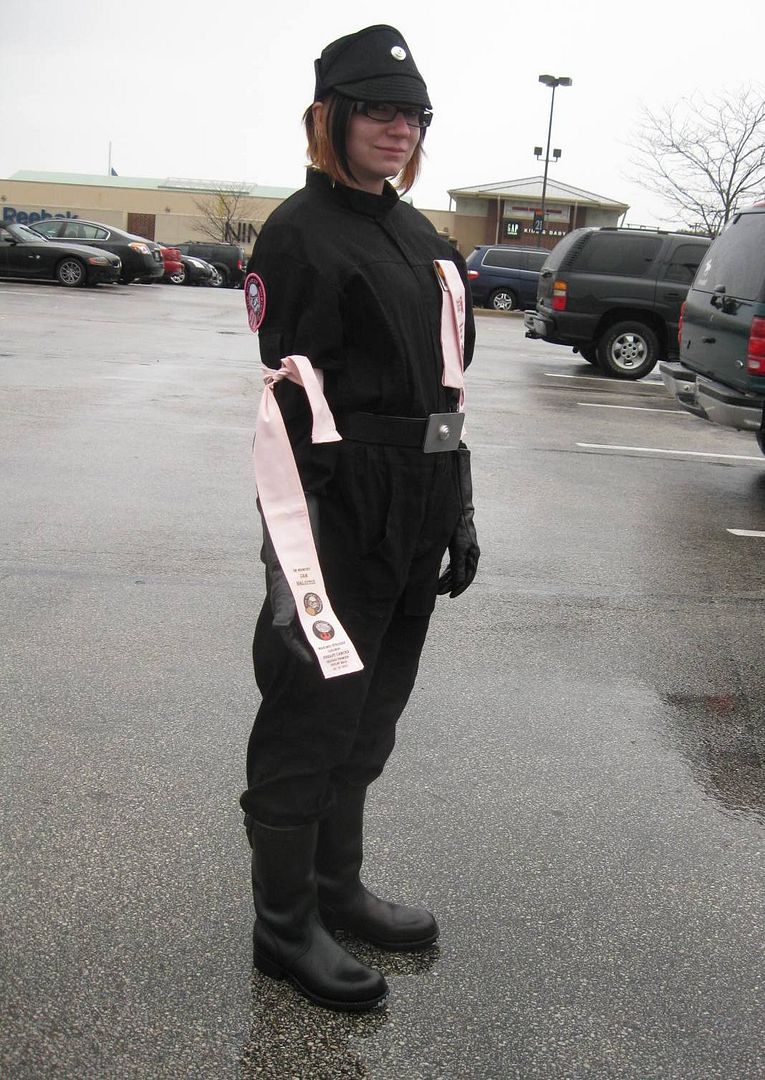 Jason Sands wore the final one for Gina McGinn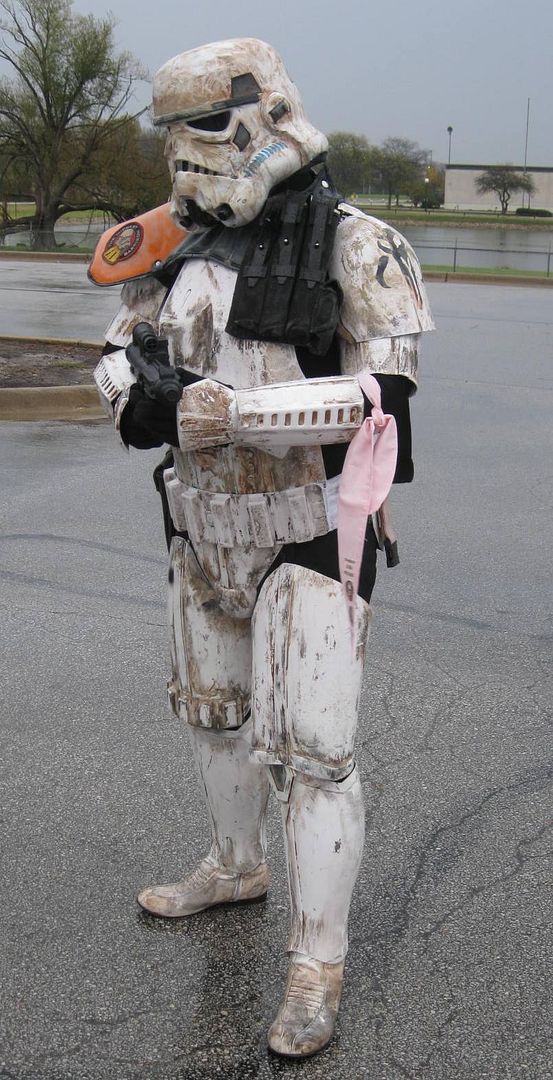 My most sincere thanks to all of
our participants
who got up early,
got dressed in the rain
and made their way around the course also in the rain.
You are all VERY special people...I hope you know that.

OUR PARTICPANTS:
In no particular order:
Bob Dziura – TK1656
Robert Hamilton – IS9295 Nar Shaddaa Base
Jody Mc Quarters TK/DZ 6443
Kevin Glass TK2834
Mark Van Slyke - TB-8063 - Nar Shaddaa Base
Thomas Turner SL/IC 4913- Nar Shaddaa Base
Cheryl Whitaker – TB3127 - Nar Shaddaa Base
Neil Auer - TK3446
Jen Loomis – SL/CT 5365 - Nar Shaddaa Base
Steve Szyndrowski SL/ID3052
Anthony Day SL7956
Steve Gaza TK 4034
Gina Martino ID 6216 Nar Shaddaa Base
Jess Hudak ID8238 – Nar Shaddaa Base
Janine Jender – TI 4838 - Nar Shaddaa Base
Jason Sands TD 1590
Brian Troyan TB/IG 8968
Matt McDonald TK8148
Andrew Marsh – TI/TA 2079 – Nar Shaddaa Base
Javier Esqueda – TK 0265
John Fitzsimmons – TK 6442
Roland Batrouni TK4186
Phyllis Schulte - TK 1951 - Nar Shaddaa Base
Thanks also to the brave family members who also came, walked, and got wet!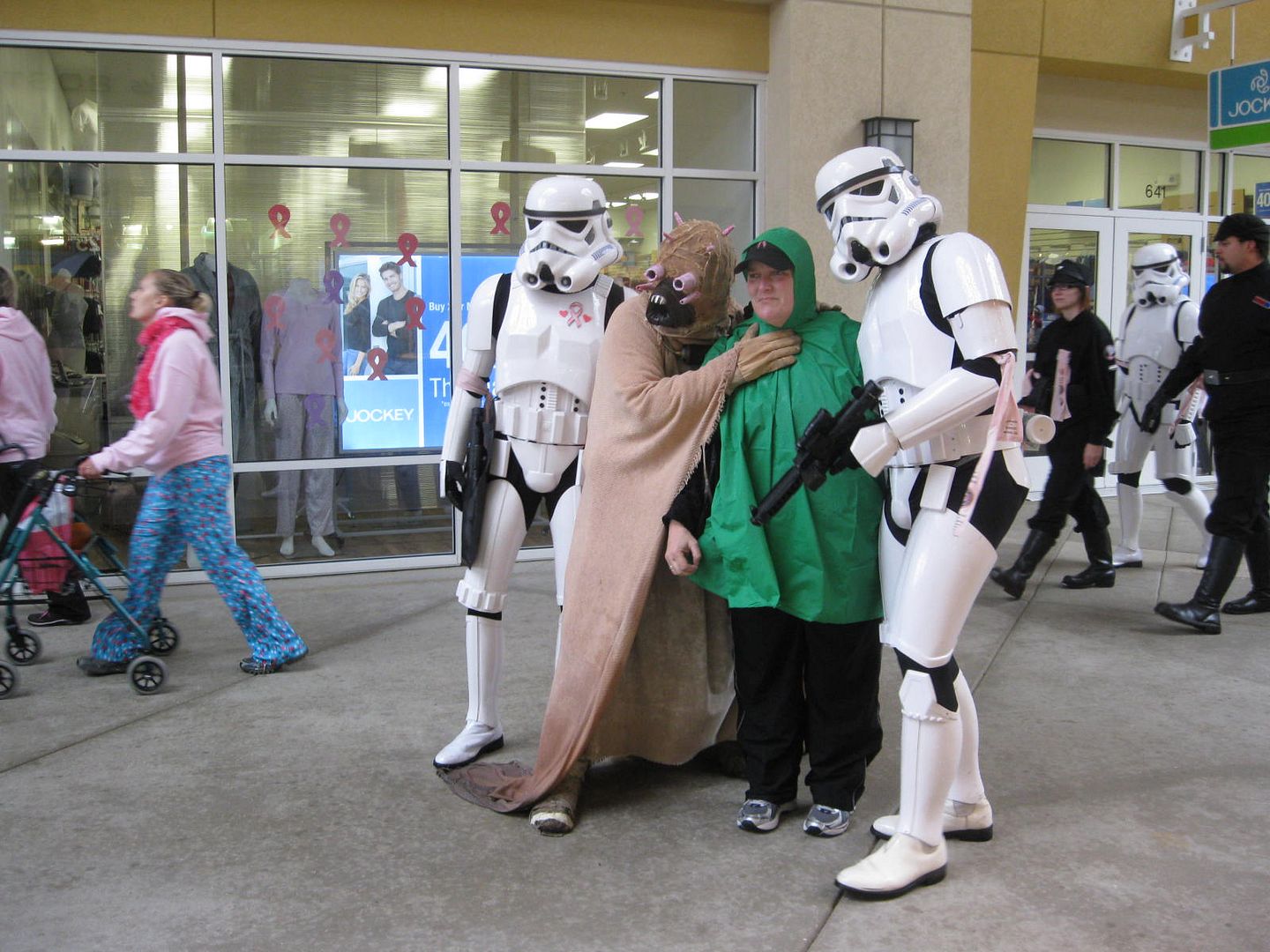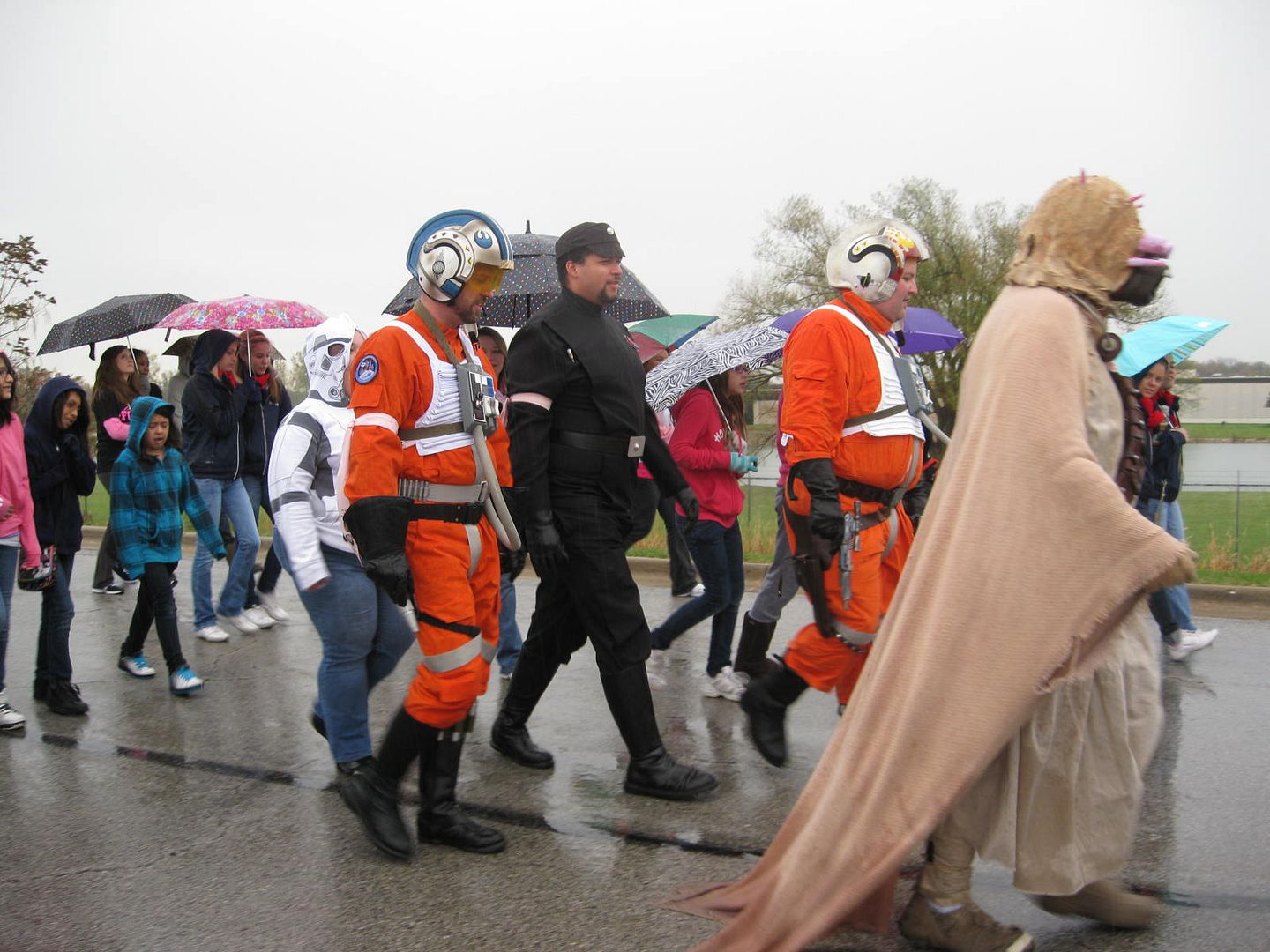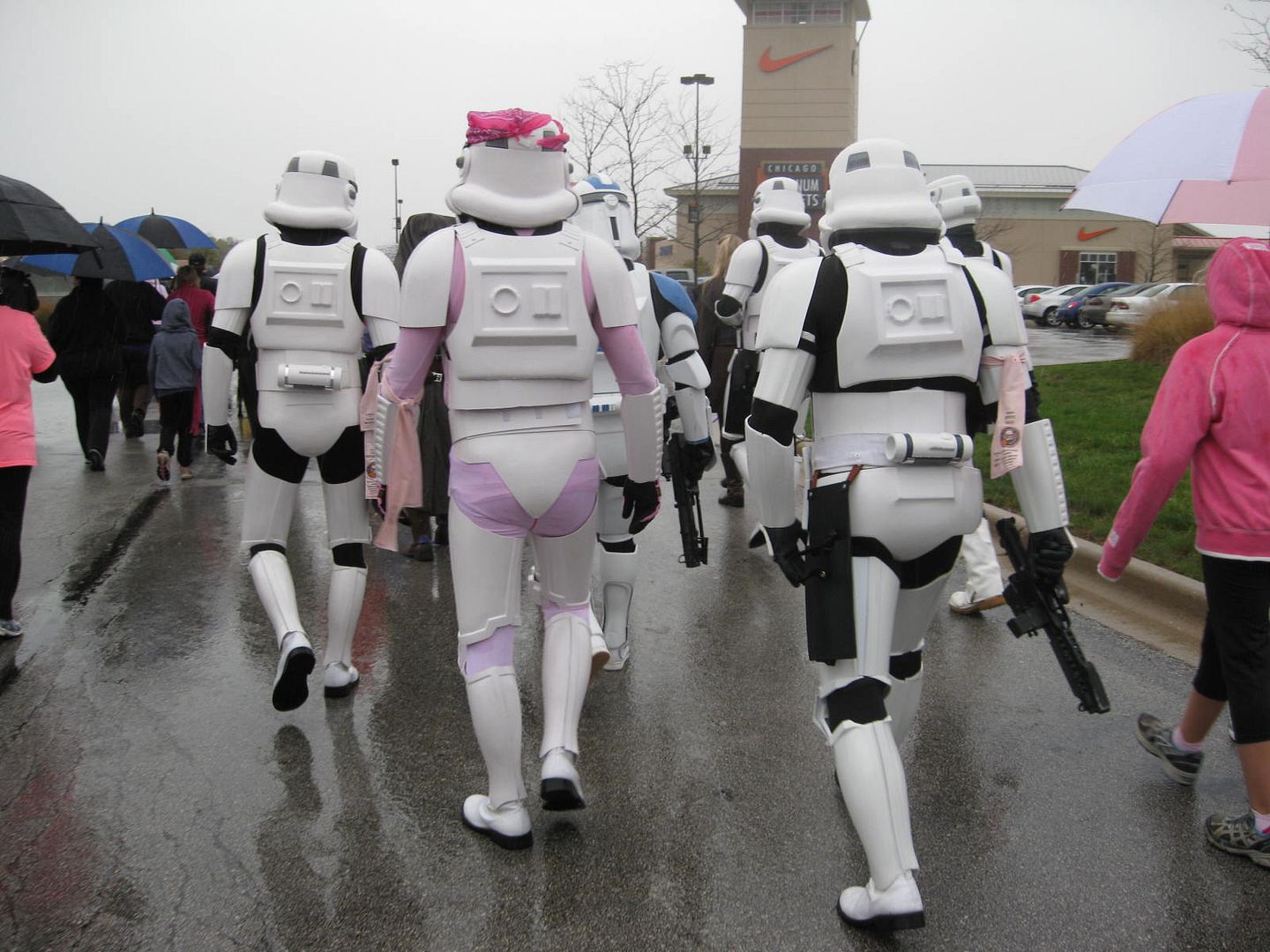 More photos....
and..
Gochi out...
http://s201.photobucket.com/albums/aa30 ... ?start=all