To celebrate the release of Star Wars: The Complete Saga on Blu Ray, Lucasfilm and 20th Century Fox requested the presence of the Midwest Garrison at the Lincoln Park Best Buy location for their midnight release party, one of only three sponsored release parties across the United States.
A contingent of troopers, led by Lord Vader arrived well in advance of the event to get set up, and made an appearance outside for the customers waiting patiently in the cold night air. Things did not all go as planned, however, as a traitorous Jedi Knight was waiting for us amongst the customers and attempted to strike down Lord Vader with his lightsaber. After a quick duel in the parking lot, the Dark Lord swiftly vanquished him!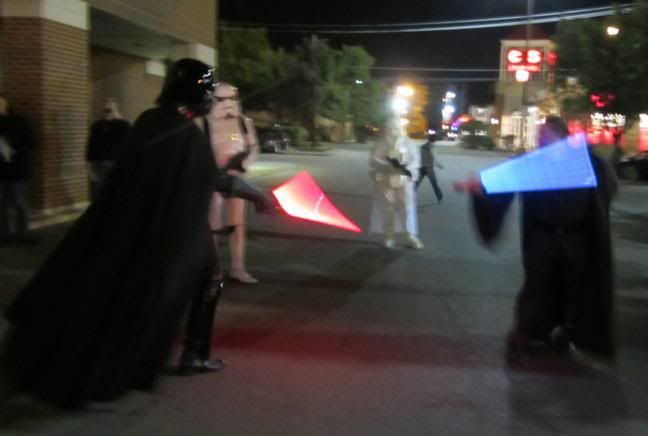 Shortly after, the Best Buy crew had dozens of pizzas delivered and invited all of the customers inside for a pizza party in the minutes leading up to Midnight. We kept order in the store, but TK-8148 and TB-8968 did make some trouble with an improvised 74-Z Speedercart...
Local law enforcement arrived to help keep the crowd (and the troopers) in line.
"Re-bels, Re-bels... Wha'cha gonna do? Wha'cha gonna do when they come for you?"
Ultimately, the Midwest Garrison certainly delivered for Lucasfilm, Fox, and Best Buy for the midnight release. And
they
delivered for
us
in return... with a $600 donation to the American Cancer Society for our Making Strides Against Breast Cancer team!
Buckets off to these fine troopers who were all a part of this late night troop and helped to make it all happen!
* 09/15/11 IL Chicago - Best Buy Star Wars BluRay Midnight Release
TS-1296 Joe Flores
TB-3127 Cheryl Whitaker
SL-3193 Mike Olsen
TK-3446 Neil Auer
TK-8148 Matt McDonald
TB-8968 Brian Troyan