Saturday, 9/10/11, was one of the most popular days to get married in 2011. The Midwest Garrison had the honor of being a big part of one of those weddings in Chicago, by helping best man Andrew with a top-secret mission during Angela & Tony's wedding reception at ZED451 Restaurant.
TKs 3446 and 8968 reported for duty to help put a Star Wars spin on requester Andrew Halaby's toast. Our appearance was a surprise to everyone except the best man and his wife. We suited up on the restaurant's second floor and awaited our order to "attack." Although there were delays, we were still ready when our cue came. We made our entrance to the Imperial March, striding through the crowd of 200 wedding guests to take up positions with Angela and Tony, the bride and groom. Since the Tony and Andrew are brothers and from a family of Star Wars fans, and since Angela is something of a bar trivia maven, Andrew felt it would only be appropriate to test her knowledge of Star Wars with some trivia questions before welcoming her into the family. Stormtroopers 3446 and 8968 were on hand to take her into Imperial custody if she failed in the task.
Luckily, our services were not needed. Angela answered all three questions with flying colors, and Andrew awarded her with a mint in star-box limited-edition Stormtrooper action figure - autographed (!) by Andrew himself.
Since we were no longer needed, Andrew dismissed us with a Jedi mind trick and a suggestion that we could catch the Clark Street bus back to the Death Star if we hurried. Five minutes after our entrance, we were already on our way out!
Someone caught the Best Man's toast on video! So you can see most of our troop here!
http://www.youtube.com/watch?v=hh2UUdoPSdY
Photos: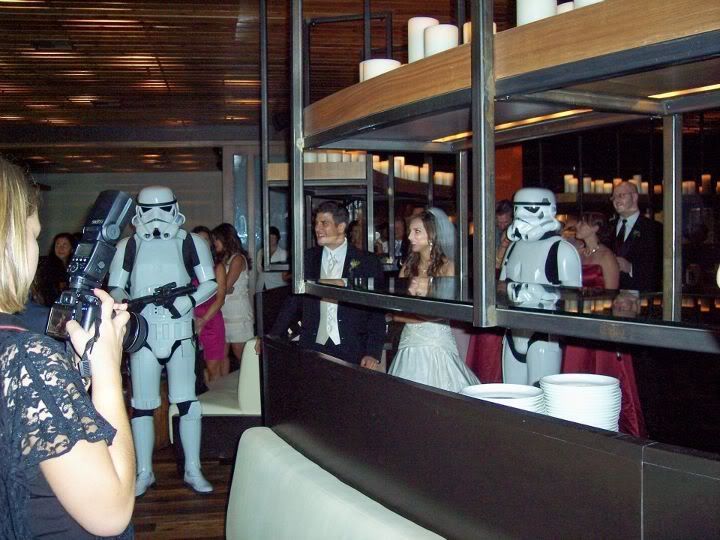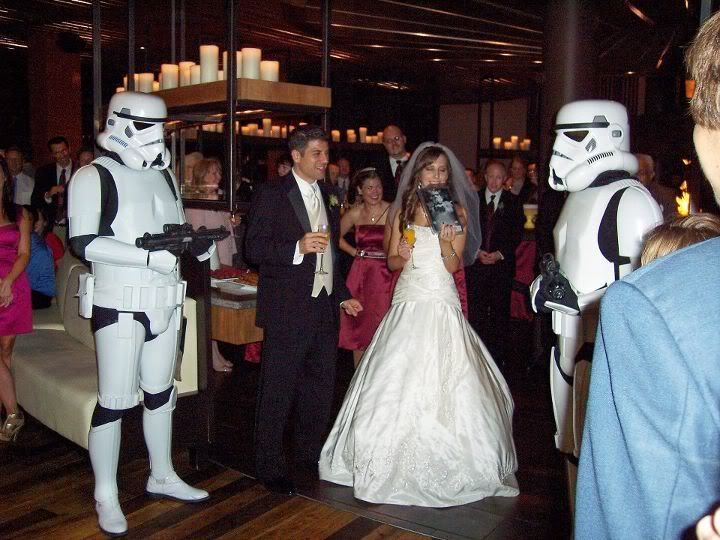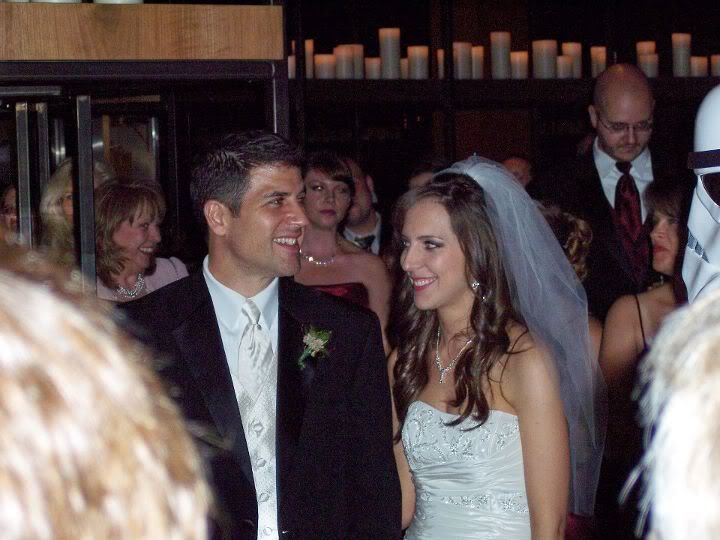 Angela and Tony will - without doubt- live happily ever after. After all, Star wars
is
a fairy tale, so how else could the story end?
TOD:
3446 Neil A.
8968 Brian T.
Charity totals:
$100 for Making Strides Against Breast Cancer
4 trooper-hours (2 hours x 2 troopers)