- photo by Jennifer Loomis (SL5365)
EVENT:
Meet & Greet appearance in the Museum of Science & Industry's Great Hall
WHEN:
SATURDAY DECEMBER 15, 2007 9:30am – 3:30pm
WHERE:
Museum of Science and Industry
http://www.msichicago.org/
57th Street and Lake Shore Drive
REPORT:
(by Kathy van Beuningen, TK9989)
Quite a crew from the Midwest Garrison assembled on the snowy lakefront today for one of the final weekends of the Star Wars: Where Science Meets Imagination exhibit's run here in Chicago.
The concurrent special exhibition in the museum is the 66th annual Christmas Around the World exhibit. The exhibit includes over 50 Christmas trees decorated by volunteers in the themes of countries around the world. Yes, there is even a Star Wars tree!
The annual holiday exhibit traditionally draws large crowds. That together with the Star Wars exhibit has been filling the museum with visitors daily. The museum has even extended it's hours to try to accommodate all of the people who wish to visit these special exhibits.
The Star Wars exhibit has been totally sold-out on the weekends with huge crowds lined up at the opening in hopes of scoring some of the precious few daily tickets available to see the Millennium Falcon display. Those tickets are free, but the are first come / first serve and are timed throughout the day.
Today, after the initial rush for the tickets, the Members of the Midwest Garrison spent the morning in the museum's new entrance area, the Great Hall.
The museum provided the 501st Legion an information table today so we could put a couple of our grounded TIE pilots to work. Jim (TI3853) and Emily (TI1802) DeJan spend the day tattooing kids. I swear -- they must have tattooed over 1,000 little arms today!
Jim & Emily brought their 501st Legion banner (the one with all of the Garrison logos) and their large Midwest Garrison sign (and loads of tattoos!)
I brought Star Wars tablecloths, a couple of my 501st Legion collages, my latest Midwest Garrison binder with our press kit and all of the MWG newsletters, plus more recent event memorabilia and a big towel. The towel was soaked after an hour with all of the traffic at the information table!
Today was new Midwest Garrison Member, Cherri A Moore's (TI4026/TIE pilot) first trooping event. Cherri costumed for part of the day, then she relieved Jim at Emily at the information table for a while where she and I resumed the tattooing. This was Edward R Kryzowski's (TI4438/TIE pilot) second troop!
I think they had a great time
Tom (TK118) spent several hours as the Golden droid. C3PO's adventures today included a 'droid race' -- although I have a feeling that Durge (BH1876) was cheating because he's not a droid. C3PO gave him a run for his money though! Check out the video footage (coming soon!)
R2-S5 (the purple droid) entertained the kids. (Astromech droids are kid-magnets -- totally!)
Overheard today: "Look! It's
purple
!" Darryl (IC4050) practically got carpel-tunnel syndrome today from working his droid
We had only one "rebel" in our midst today, Jennifer Loomis (SL5365) as Queen Amidala.
We had two Darth Vaders today. Rich (SL1781) donned the mask in the morning then headed to Dreamtime Collectibles in Indiana for an afternoon event. Jason (SL1719) resumed the role of the Dark Lord in the afternoon. You should have heard all of the kids yelling when Vader got on board the two-story glass elevator to descend into the crowds.
We had several of the other saber-wielding folks present today. Anthony (SL7956) as Anakin Skywalker. Kate Moan (SL5420) as Mara Jade. Tim T (hopeful recruit) was a Jedi knight today. Eric (TK1055) also donned his Jedi robes today, so future new recruit Mitchka could have the opportunity to experience wearing a suit of stormtrooper armor for a few hours. Mitchka did very well and really enjoyed the experience. Look for him to join our forums soon and begin his quest to join the empire. Damian (TS826) was able to make it into the city through the building snow storm. Damian wore his tusken. Once he stepped out of the changing room -- he vanished into the people vortex that we seem to create where ever we go at the museum. (I even got a picture of it!)
Way-in-the-future Legion recruits Austin Schaefer and Alyssa Patterson both wore their mini TIE Pilot uniforms. Then they drank a lot of Mountain Dew and went on a sugar-spazz. Ashlee Markle & Sage Sorensen did help out their parents as costume & droid support.
All-in-all: an excellent day at the museum! I am glad that we have had so many opportunities to troop there!
** ONLY 3 more events / weeks left of the exhibit and then it will be off to
The Franklin Institute Science Museum
http://www2.fi.edu/
in Philadelphia (Opens February 9, 2008)
501st Legion / Midwest Garrison Participants:
Jim DeJan / TI3853 / Imperial Crew / 501st Table
Emily DeJan / TI1802 / Imperial Crew / 501st Table
Tom Schaefer / TK118 / C3PO and Royal Guard
Jason Patterson / SL1719 / TIE Pilot, Imperial Crew and Darth Vader
Rich Markle / SL1781 / Darth Vader
Damian Jorgensen / TS826 / tusken raider
Kathy van Beuningen / TK9989 / Imperial Officer and stormtrooper / 501st Table
Eric Moan / TK1055 / Jedi /
Kate Moan / SL5420 / Mara Jade
Jennifer Loomis/ SL5365 / Queen Amidala and Costume Support
Anthony Day/ SL7956 / Anakin Skywalker
Thomas Spanos / SL1876 / Durge
Darryl Sorensen / IC4050 / Imperial Tech / Droid operator and R2-S5
Cherri A Moore / TI4026 / TIE pilot / Imperial Crew / 501st Table
Edward R Kryzowski / TI4438 / TIE pilot
* Austin Schaefer / Mini TIE Pilot
* Alyssa Patterson / Mini TIE Pilot
* Mitchka Bailey / stormtrooper (future recruit)
* Yana Bailey / Costume Support
* Ashlee Markle / Costume Support
* Sage Sorensen / Droid Wrangler & costume support
* Tim Thompson / Jedi
PICTURES!
Kathy's:
http://s25.photobucket.com/albums/c65/TKvanB/MSI2007/
Jen's:
http://s53.photobucket.com/albums/g64/b ... tor=bottom
Jim DeJan's:
http://s54.photobucket.com/albums/g89/M ... 08d7a5.pbw
....start the droid race:
- photo by Kathy van Beuningen (TK9989
)
...is there somebody in there?
- photo by Kathy van Beuningen (TK9989
)
....swarms at the 501st Legion information table......even Vader couldn't escape the people-vortex....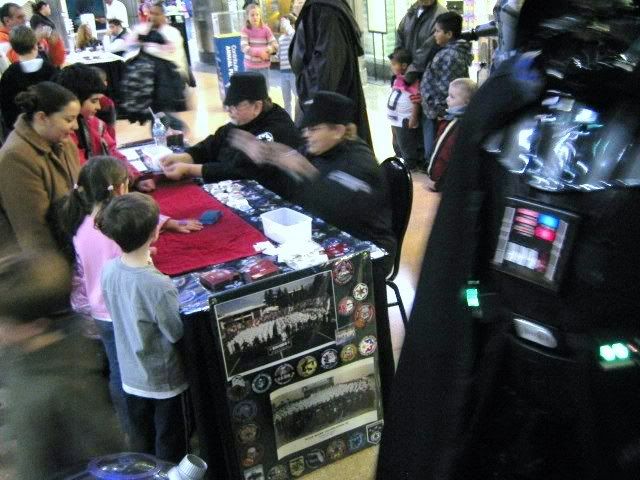 - photo by Kathy van Beuningen (TK9989
)
the dreaded people-vortex!
- photo by Kathy van Beuningen (TK9989
)
a 3-second movie.
- film by Kathy van Beuningen (TK9989
)