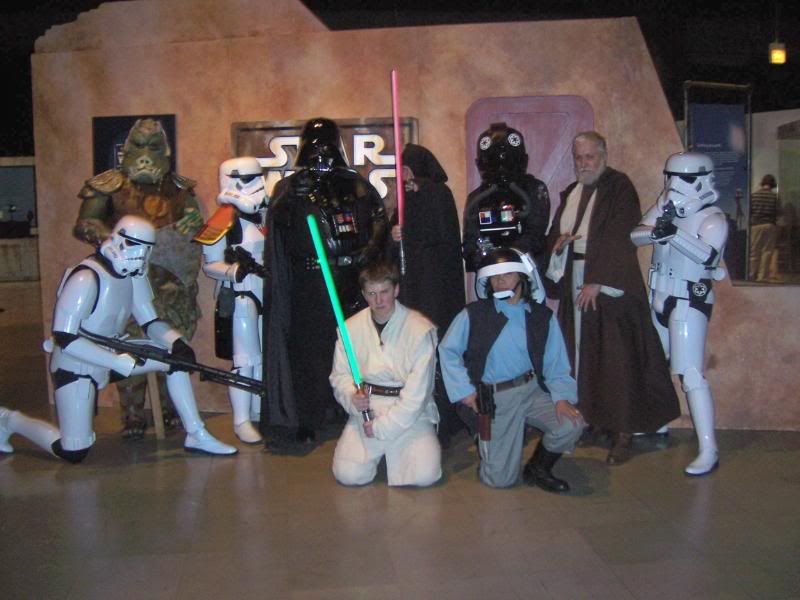 Neither rain, nor sleet, nor snow, nor freezing ice could keep members of the 501st, the Rebel Legion and the Jedi Assembly from their mission....to enhance the "Star Wars-Where Science Meets Imagination Exhibit" for the employees of the PK Wrigley Company's Christmas Party. Wrigley Company is a large contributor to the MSI and a Wrigley Exec was at one of our other trooping events at the Museum. This Wrigley employee put in a request to have us there for this party and I am happy to say "wish granted".
Boy...I think it might be pretty nice to work for Wrigley Co-what a better place to have a Christmas Party than at the Museum of Science and Industry as it is all decked out with the Christmas Around the World Exhibit...and....of course the "Star Wars" exhibit.
Huge thank to all of our participants who braved a winter storm to make it all the way in from points as far away as Rockford, Wisconsin and Indiana to make this a very special event for Wrigley Employees.
Participants:
TI1719 - Tie Pilot -
Jason Patterson
Mini-Tie -
Alyssa Patterson
TK9989 - Stormtrooper -
Kathy Van Beuningen
TK1951 - Stormtrooper -
Phyllis Schulte
- RL - TJA
DZ5591 - Gammorean Guard -
Jerry Treiber
SL1781 - Darth Vader -
Rich Markle
TK1055 - Darth Sidious -
Erik Moan
Stormtrooper -
Ed Pekin
- Freelance
Ben Kenobi -
Lionel Bottari
- RL - TJA
Generic Jedi -
Tim Thompson
- Hopeful recruit
Rebel Fleet Trooper -
Marlyn C
- Rebel Legion
Costume Support:
Ryan Treiber
Ian
Ashlee Markle
Conor Markle

More photos:
http://s201.photobucket.com/albums/aa30 ... y-12-1-07/