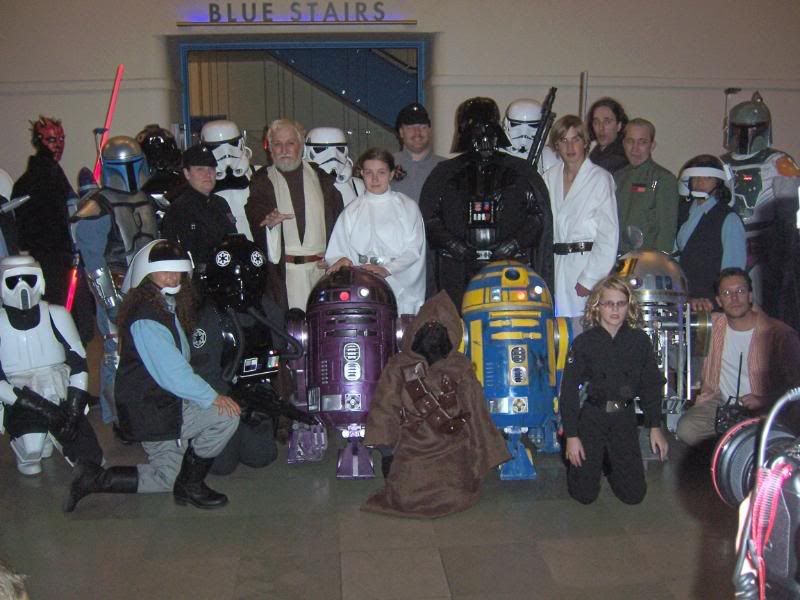 Once again our members were called upon to add some ambiance and excitement to the "Star Wars-Where Science Meets Imagination" exhibit. This time was for the Musueum's annual Halloween Gala.
Lots of kids were there in their Halloween costumes and Star Wars costumes were well represented.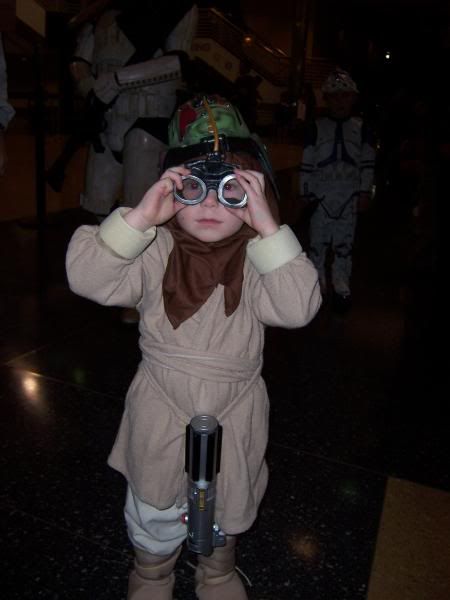 6 of the Empire's finest (Stormtroopers) led the kids for a couple of "spins" around the Rotunda on the third floor and then everyone scattered for photo ops and general "schmoozing" with the guests.
The R2 Builders were again out in force ....and we had 3 outstanding Astromechs. I stood for a while and watched all of the kids reaction to the little Astromechs....those droids got loved to death.....it is amazing how many kids will come up and just give them a hug.
Thanks again to all of our 501st, Rebel Legion, R2 Builders and TJA members for providing all of the people that came to the event with a little something extra. I was told several times that seeing us was better than the exhibit and one little girl made sure that she thanked us as she was leaving.
TK 118 - C-3PO
Tom Schaefer
SL1781 - Darth Vader -
Rich Markle
TI1719 - 2nd Darth Vader -
Jason Patterson
Mini Tie -
Alyssa Patterson
BH3620 - Boba Fett -
Rudy Grasha
Jawa -
Brandon Grasha
IC4050 - Imperial Crew & R2 D5 -
Darryl Sorenson
R2 Builders
TI7118 - Tie Pilot -
Vicki Silva
TK4544 - Stormtrooper -
Ed Silva
TK7708 - Stormtrooper -
Geoff Adamstk
SL2633 - Darth Maul -
Paul Mazzoni
BH 4117 - Jango Fett -
Chris Mazzoni
TI3127 - Tie Pilot -
Cheryl Whitaker
- RL-TJA
TK1951 - RFT -
Phyllis Schulte
- RL-TJA
SL5365 - Red Invasion Amidala -
Jen Loomis
- RL
SL7956 - Anakin Skywalker -
Anthony Day
TB7926 - Biker Scout -
Ryan Day
TK2460 - Stormtrooper -
Dave Foust
ID9990 - Imperial Officer -
Vince Newkirk
TK2859 - Stormtrooper -
Bill Sansom
TK9989 - Stormtrooper or Officer -
Kathy VanBeuningen
- RL
TB101 - Biker Scout -
Aimee Jorgensen
TB1335 - Biker Scout -
William Ross
Ben Kenobi -
Lionel Bottari
- RL-TJA
Luke Skywalker -
Luke Zintak
RL
Stormtrooper -
Ed Pekin
Jedi -
Jenn Dunigan
Rebel Fleet Trooper -
Marlyn C
RL
Kelly Krider
- R2-B3 - RL - R2 Builders
Craig Smith
- R8 - R2 Builders
Quincy Newkirk
- Princess Leia
Handlers:
Deb Pekin
- C-3PO
Sage Sorensen
- Droid Wrangler
Mrs Ross
My photos:
http://s201.photobucket.com/albums/aa30 ... 010-28-07/
Rudy and Brandon Grasha's photos:
http://s110.photobucket.com/albums/n114 ... SI%20Gala/
Ed and Vicki Silva's photos:
http://www.flickr.com/photos/24078248@N00/tags/msi/
Jen Loomis' photos"
http://s53.photobucket.com/albums/g64/b ... ?start=all
Thank you all again for coming out....