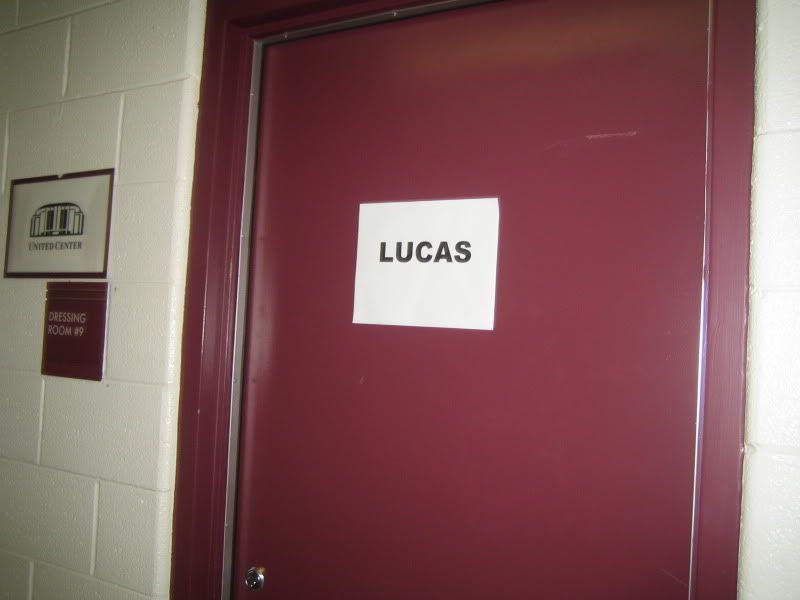 (I was rushing down the hall & when I saw this, I started to believe that this was for real)
TK118 wrote:Star Wars Concert & VIP Brunch

Dec. 6th United Center - Chicago

On Dec 6th 2009 Members of the MWG participated in Star Wars In Concert at the United Center in Chicago. In addition to trooping and taking pics with fans that always makes them and us smile, a few of us were lucky enough to be part of a special VIP brunch. In attendance was not only Anthony Daniels (C-3PO) but GEORGE LUCAS HIMSELF!

George was nice enough to give us a few moments and took a couple group pics with us after the Brunch then stayed and was actually in the audience for most of the first concert (the 1pm show). He left the audience shortly before the intermission and then he and his family left the United Center shortly before the end of the concert. He walked down the aisle right through the audience accompanied by a couple United Center security guards.

We found out later from the people who work the concert tour that this was the first time George has seen the concert live.

Here

are a bunch of pics from myself and other MWG members.. Enjoy

http://www.tk118.com/swconcert09.htm
Jerry Budde - Clone (red)
Rick Thames & R2D2
Kevin Koceja - Boba Fett
Keri Koceja - Bikerscout
Kathy Van Beunigen - Imperial officer
Aimee Jorgensen - Bikerscout
Tom Schaefer - stormtrooper
Brian Troyan - stormtrooper
James Tampa - Darth Vader
Joe Rivera - Clone (Rex)
Robb Roidt - stormtrooper
Wally Contreras - Imperial crew
Mike - Wickett
Arturo - Grey Bear
Michael - Chewbacca
TK0.5 - himself
George Lucas - himself
(Mr. Daniels asked

US

to pose for a picture with

HIM

!)
(We found out from the members of the orchestra that they were unaware that Members of the 501st Legion had even been present & costuming at these concerts. THis was the first time during the tour that they had seen any of us & the horn section was super-excited to get a photo op with us!)
(.....OK, well this was the second time that Mr. Lucas has seen the concert)
--- BUT it was the first time in the U.S. !!
(I had asked the people that were working the concert tour about that)
More Member Photo Galleries:
http://www.facebook.com/album.php?aid=3 ... 7760bea885
(Zach Wagner)
http://www.facebook.com/profile.php?suc ... 963&ref=mf
(Rebel Doughboy)
http://s269.photobucket.com/albums/jj43 ... rsConcert/
(John Quirk)
http://s25.photobucket.com/albums/c65/T ... rt%202009/
(Kathy van Beuningen)
http://s33.photobucket.com/albums/d74/v ... ?start=all
(Robert Hamilton)
http://s201.photobucket.com/albums/aa30 ... %20Center/
(Phyllis Schulte)
Chewbacca & the Ewoks were LucasFilmLtd's and sent in from California for the brunch event.
TB0101 with Grey Bear & Wickett
TK0.5 had some fun with the characters & so did we!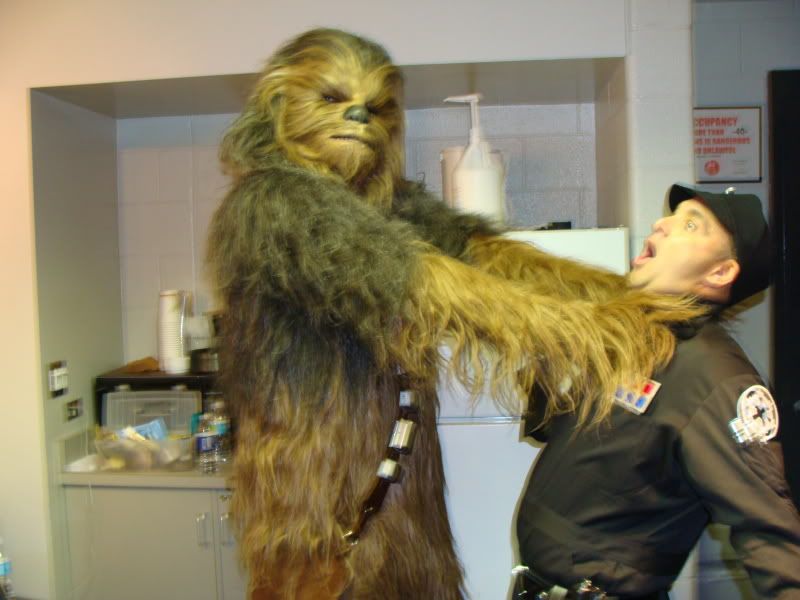 TKvanB wrote:Everyone from our group who participated in this event was very respectful &
professional and everyone had a great time!

Unfortunately, the Mayor of Chicago was not able to make it to the
breakfast, but there were plenty of other guests that were thoroughly
entertained. Michael, Mike & Arturo (Chewbacca & the Ewoks) were
wonderful!! After they got into their costumes, they were so amazing as
their characters! They were really convincing to the point that I almost
forgot that they were real people inside the costumes. The children (of all
ages) LOVED them! There were a couple of little kids that I could tell
wanted to take them home! ;~)

Almost everyone from our group showed up. Unfortunately, there were a
couple Members who had some last-minute emergency situations that prevented
them from being able to attend. I am sure that they wished that they could
have been there. We were fine with the amount of people that we did have in
costume because the restaurant had an intimate ambiance and had many levels,
nooks & crannies as opposed to brightly-lit open areas.

Wally and I kept discretely circling around to everyone on all of the levels
to see if anyone needed anything and we did what ever were asked. Aimee &
Kerri were BRILLIANT as Bikerscout "spotters" for the Ewoks. That could
not have been a more perfect combination as far as what we needed to do and
how it appeared to all of the guests. This all fit so well! Darth Vader,
Boba Fett, R2-D2 the clone troopers and the stormtroopers all got plenty of
love from the guests.

The Ewok Village decor as OUTSTANDING!!! (& now for a small world
moment) -- Mitchell, the man who built/designed/installed that decor
recognized me from when he ran into me at the local JoAnn fabrics a year or
more ago. I had no idea that this was the sort of thing that he did! When
we met back then, he recognized the Imperial insignia on my jacket and he
started up a conversation about Star Wars while we were both shopping for
things at the fabric store. I told him about the 501st Legion and our
costumes that we make. I must have been at the JoAnn to pick up material
for what ever I was working on. It was a pleasant surprise running into him
yesterday. Like I said, the decor was outstanding! It was almost all set
up by the time we arrived. They tore it all down in the afternoon. They
were done cleaning everything up by the time of the second concert and we
went back into the restaurant and didn't even recognized it to be that same
place.

At one point (early on in the brunch) the fog machine set off a fire alert
and a bunch of Chicago Firemen came in...........and were wondering what the
heck was going on...... you know. Stormtroopers, Ewoks, Chewbacca in the
middle of an Ewok village?????? Fortunately there was no fire, so they
posed for a couple pictures with a few of us who were standing by the
entrance & left. I bet they had some stories to tell back at the station!
I did not realize that the reflective tape on their uniforms was so
reflective in photos!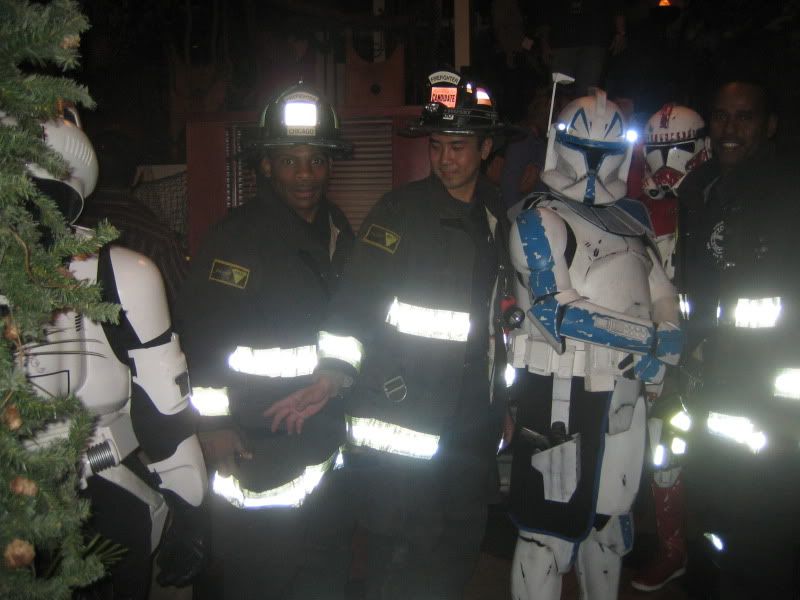 YES, those
ARE
real, live Ewoks!!!
(I'm still REALLY glad that nothing was on fire!)