For the 6th year in a row, members of the 501st attended the Toy Con Annual Charity Toy Show to benefit Children's Treasure Chest for Pediatric Oncology in Bridgeview IL.
501st members have always supported this effort in grand style. Members not only come in constume to take photos with con goers for donations to Treasure Chest, but also bring many toys themselves.
Thanks to our Participants in order by number:
Joe Flores - Snowtrooper - TS 1296
Jason Patterson - Darth Vader - SL 1719
Rich Markle - Snowtrooper - TS 1781
Phyllis Schulte - Hoth Trench Trooper - TK1951
Cheryl Whitaker - Biker Scout - TB 3127
Rudy Grasha - Boba Fett - BH 3620
Cherri Kryzowski - Tie Pilot - TI 4026
Ed Kryzowski - Tusken Raider - DZ 4438
Mark Van Slyke - General Grevious - TB 8063
Jeffrey Baron - Tie Pilot TI 9131
Augie Webster - Rebel Fleet Trooper - BH 9397
Chris Schwarz - Biker Scout - TB9442
Rudy Grasha Jr. - Stormtrooper
I am not sure how much money we raised in the photos that we took with patrons....
how much is not important in the larger sense.
The fact that we came with toys in hand for anyone wanting a photo with us is the best that we can give.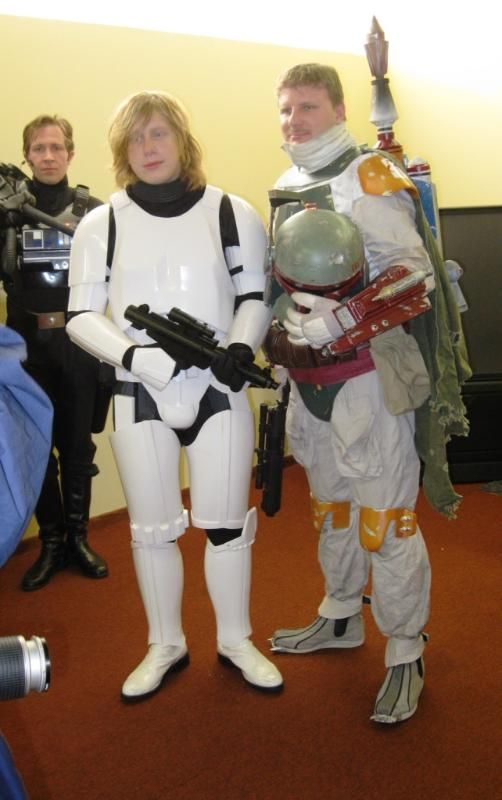 As always, our friends from Rockford came to visit with their girls...they do an AWESOME job on making great costumes for the kids...and I keep giving the girls dad grief because he needs to make a costume for himself. I got a big hug and kiss from the little Biker Scout as they were leaving...though she was definitely afraid of Mark in his General Grevious...she had no problem with the Hoth Trench Trooper..
Thank you again everyone ...
and hope to see you all next year...
and a stronger economy...
Side note...the first event Joe Flores ever attended in costume was Toy Con...he was not even a member yet....but came by ...with his bucket on...
and we were all starting to count Ties and found ourselves with an extra one...
More Photos:
http://s201.photobucket.com/albums/aa30 ... 2012-6-09/
Rudy's Photos:
http://s110.photobucket.com/albums/n114 ... ?start=all
Cheryl's photos:
http://www.flickr.com/photos/41064945@N ... 969860672/