OK, this one actually goes up in a timely fashion.. SWEET!
Once again the call was put out to the 501st to help promote a new Star Wars book at the Borders in Oak Brook. While the book may have broken new (and apparently gruesome!) ground as far as Star Wars books are concerned, this was familiar territory for the MWG.
As usual we got suited up about an hour before the actual signing and discussion with the author, most of our time spent outside were it was actually nice and cool for us. Once 7:00 rolled around we led the author to his table and stood watch as he read a bit from his book and fielded questions from the group.
Joe Schreiber, the author, seemed like an incredibly down to earth guy, and spook high praises of the 501st... which is always nice to hear. Most of us remained once he started signing his books, and got to pose with him for a picture... which he asked for Crix's blaster for (sweet!) We got some pretty cool posters and bookmarks from the store, and when all was said and done it was a great troop. Always good to see friendly faces and troop with great folks!
Some pics:
and for some reason this one cracks me up with the "Wimpy Kid" cutout standing next to Eric: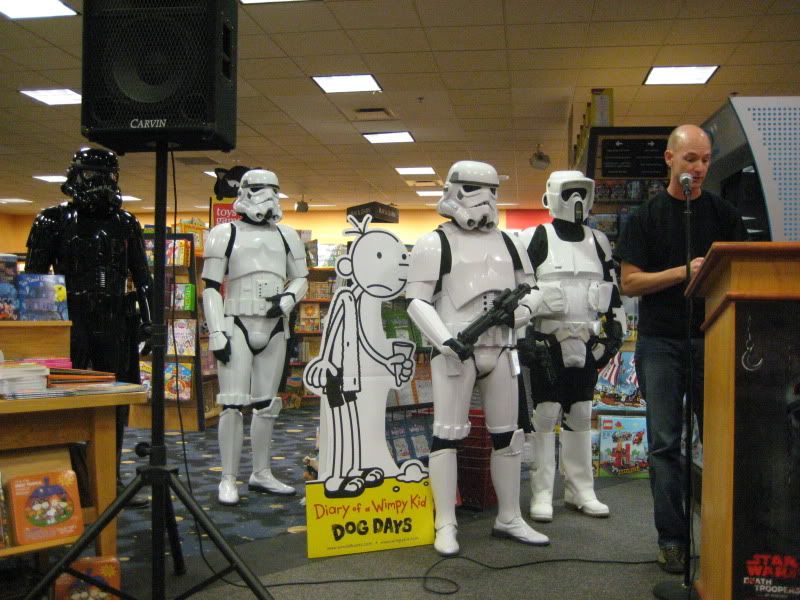 Fantastic job as always!
In attendance were:
TK-1819 Eric Scheuermann
TK-1951 Phyllis Schulte
TB-3127 Cheryl Whitaker
TK-7230 Rob Miller
TK-8114 James Norman (thanks for coming and getting photos bro!)
TD-8310 Robert Hamilton
TX-3697 Patrick Higgins
and... you guessed it... Crix... our local rebel spy... c'mon bro... what's your poison? Chocolate Chip? Oatmeal Raisin? we've got em, you want em, now come to the dark side already!