http://www.coinssportsbar.net/home.html

COINS Sports Bar

1714 52nd St

Kenosha, WI 53140

This is an outdoor event with an expected turnout of about 1000 people throughout the day. Our day will begin at 11am, in costume outside about noon and then stay around as long as we like. I think the pro wrestling begins around 1:30.

We had a couple troops do one of these events last year and it worked out great. This years event is to raise money for a scholarship fund in the name of a teacher who was killed recently.

Quote:

KENOSHA - A special education teacher from Pleasant Prairie was killed Saturday morning during a confrontation outside a bar.

Colin Byars was just 24-years-old. He was a middle school teacher at McKinley Middle School and an assistant wrestling coach. Kenosha police say he was killed in an alley outside the Big Shotz Sports Bar and Lounge, all because he was trying to protect his friends from some men who were harassing them.

http://www.todaystmj4.com/news/local/40060652.html

This will be a meet and great type event. Roaming around interacting with the kids and parents outside. It will be a carnival type atmosphere with a dunk tank, live music etc... The event will be from about noon until 7:30 when the band will start up. We are invited to stay as long as we like.

There will be a changing room inside. Looking for 2-6 people possibly more

ALSO, there is going to be some professional wrestling going on. That will start around 1:30pm. We should be doing most of our stuff before that and are encouraged to hang out as long as we like.

Sounds like some food and drink will be provided as well.

Coins will be making a donation in our name to the Make*A*Wish foundation.
The troop went well. The crowd was great, well behaved and generous to the cause. Walking around with a couple photographers charging $2 donations for a 4x6 picture and 10 for an 8x10, we did a fantastic job.
Coins presented me with a check for $250 made out to Make*A*Wish.
Tim our host was very nice and provided Jean and I with food and drink.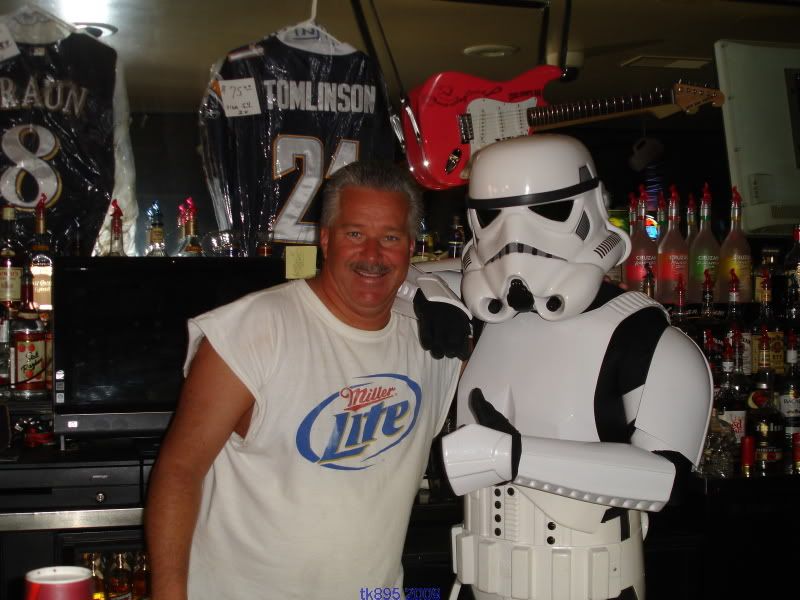 The wrestling was entertaining and they asked me to escort in one of the wrestlers, The Galactic Grappler. I was able to have some more fun with the crowd at the direction of my wrestling master. A few patrons were disposed of but all in fun.
Pictures are here:
http://smg.photobucket.com/albums/v418/TK895/MWG/2009/Coins%20SportsBar/