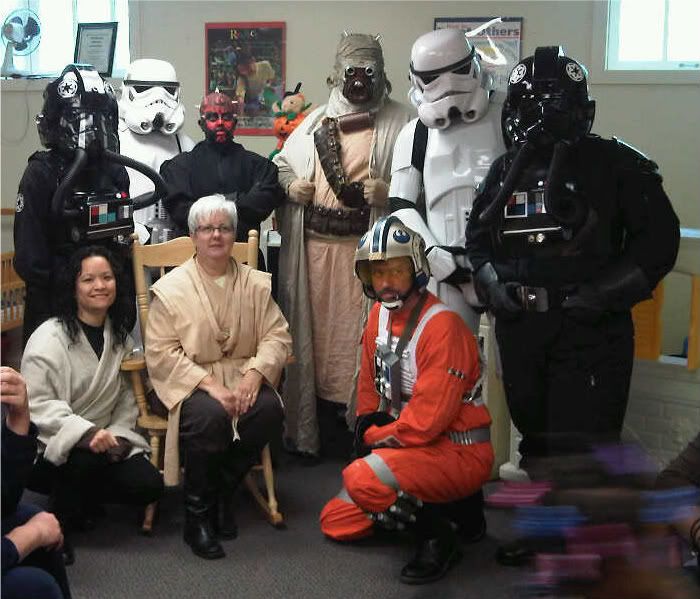 What an EVENT! We had more troopers than kids, but the kids that were there were awestruck by the troopers.
Unfortunately I arrived late due to a flat tire
...BUT in true trooper form, a game of pass the thermal detonator was well underway! TI4438 and TI4026 brought prizes for the winners. The kids beat out all the troopers! The kids had the activity packets and were able to get autographs from all the troopers!! Goody bags were then passed around to moms and kids and family/kid pictures were taken. The moms had as much fun as the kids and were amazed at the different costumes.
It has been quite a few days and EVERYONE at the shelter is STILL a buzz from the event. The kids are still talking about their new friends and I believe we have at least one mini-trooper in the making!
I am waiting for pictures from the Children Director and will be posting those!
At a time in their lives when they have very little, these families were able to relax and enjoy a few hours of halloween! They had something to look forward to and a story to tell for a looooong time. I cannot thank the troopers who were able to make it enough. I know that this is going to be the talk of the Crisis Center for some time!
I believe this is everyone who attended...I was a bit of mess that day so please let me know my mistakes!
Valissa
TK3446 - Neil Auer
IronManAtArms - Joe
TK118 - Tom and his wife Cathy was there as Costume support!
crix -
TI4438 - Cherry
TI4026 - Edward
http://s908.photobucket.com/albums/ac28 ... Halloween/