On April 2nd, the brave troopers of the Midwest Garrison were called to assist in the midnight release of Star Wars Kinect for Xbox at the Microsoft Store in Oakbrook Center.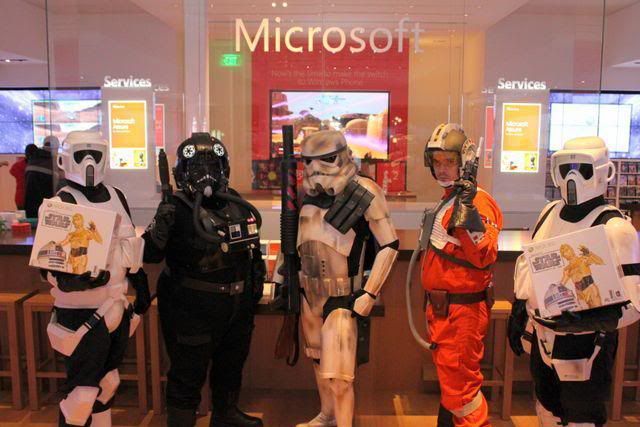 Our intrepid members arrived around 9:30 and got into gear to entertain the eager crowd. We took dozens of photos and tried out all of the mini-games in Star Wars Kinect, stomping around Mos Eisley as a rancor, pod racing (a favorite of the scout troopers!), lightsaber dueling, and dancing! Some of it wasn't so easy in armor, but the patrons and staff there got a big kick out of our antics.
Radio personalities from AM 670 The Score were on hand for the event and gave away shirts, mugs, and other Score stuff to guests who could answer their actually-pretty-tough Star Wars trivia questions! The Microsoft Store was also running a raffle throughout the evening for some great prizes. Throughout the evening, they drew raffle prizes for everything from gift cards to copies of the Star Wars Kinect game. As Midnight neared, I was near the back of the store, trying out some moves as a dancer in Jabba's Palace. I was shocked to be holding the last winning ticket of the night, and even more shocked when I found out what I had won - the evening's Grand Prize of an Xbox 360 Star Wars Kinect bundle pack! That didn't stop some sneaky rebel scum from attempting to abscond with it, though...
https://www.facebook.com/photo.php?v=37 ... =3&theater
For our appearance, Microsoft Corporation gave each of us a $25 gift card for the store and made a donation of $400 to the Make-A-Wish Foundation.
We had a great showing to support an important Star Wars property and helped to raise some solid funds for a great charity, as well. Big thanks to everyone who came out for this late weeknight troop!
Troopers:
Jim Norman (8114) - Wedge Antilles
Joe Orlando (6074) - Biker Scout
Michael Riemma (1659) - TIE Fighter Pilot
Christopher Spice (7306) - Sandtrooper
Brian Troyan (8968) - Biker Scout
Photos from Sandtroopers.com:
http://www.sandtroopers.com/events/xbox_mwg/
Report from Sandtroopers.com:
http://www.sandtroopers.com/events/xbox_mwg/report/