Back in December,I was contacted by fellow officers Frank Sanchez and Noel and Melissa Perez about another officer (Tim) who is the father of a very sick child that also happens to be a very big fan of all things Star Wars.I was asked if there was anything we could do for the boy.I said it shouldn't be a problem,we'll figure something out.
I got in touch with Tim as soon as possible and he explained to me the host of medical issues his son Mitchell has to deal with on a daily basis.Tim said on numerous occasions that Star Wars is the only thing that makes Mitchell happy.Unlike many physical activities,the Leukemia cannot take away his passion for Star Wars.
I explained to Tim what the 501st Legion is all about and given a date,time and place we'd be more than happy to pay Mitchell a visit.Tim was very appreciative and said he would get back to me when he had more information.I did learn that Boba and Jango Fett were Mitchell's favorite characters.
Imperial troops were put on alert and plans for the event were set in motion.
I knew we had to put forth our best effort for this event.I contacted Legion Founder, Albin Johnson,explained the situation,and asked if we could make Mitchell an Honorary Friend of the Legion.Albin gave his blessing and it was on to the next step.I talked with Damien Metz about making a plaque for the event.Damien whipped up a nice plaque,threw in a very cool name badge and due to the nature of the request,also picked up the tab for shipping.
I also wanted to present Mitchell with some nice gifts from the Midwest Garrison.I picked up a ballcap and varsity jacket in Legion colors and had plenty of cool patches sewn on.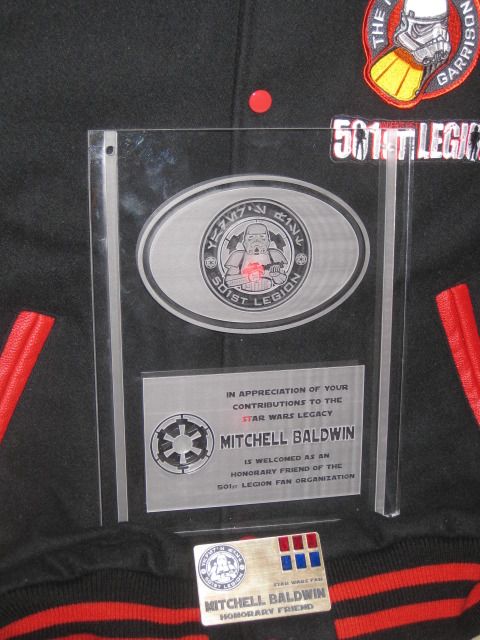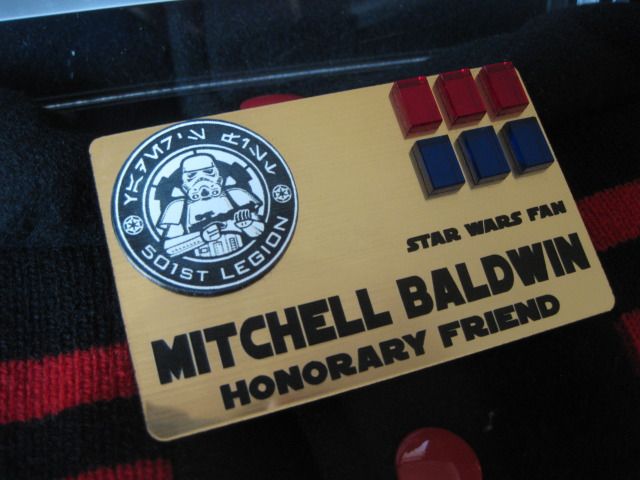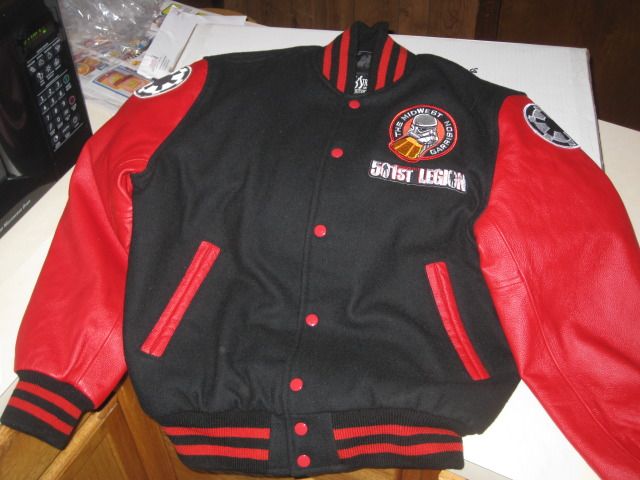 In early March I got a call from Tim.They were having a post-season party for Mitchell's school basketball team.We now had a date,time and place set in stone.On March 18 at 7:00 pm,Crest Hill Lanes and Kegler's Sports Bar & Grill would be invaded by The Empire.
Gearing up.
By 6:55pm we were ready to rock!
My Imperial spy,Frank Sanchez,informed us that Mitchell could be found on lane 6.No need to mention what happened to the Bothans that supplied Frank with that info!
At 7:00 pm sharp,the Fetts were off and hunting with the rest of the troops following in their wake.They soon located their quarry.It's amazing how fast almost all activity in a bowling alley can come to a screeching halt!
I do believe Mitchell was still clueless when this pic was taken.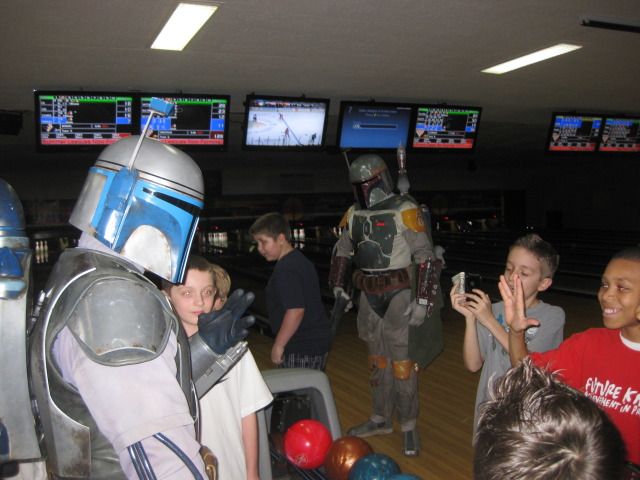 Presentation of gifts from the Midwest Garrison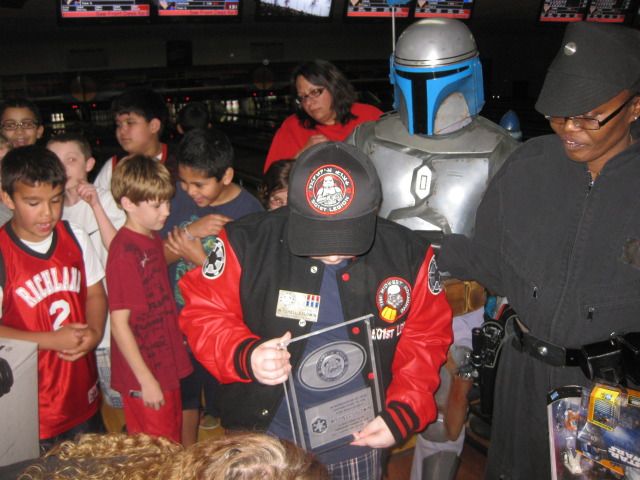 Mitchell Baldwin,Honorary Friend of the 501st Legion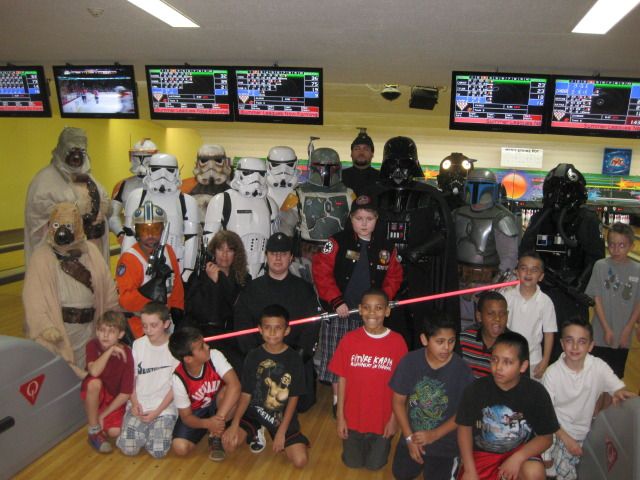 This was the most important event I've ever co-ordinated.It went off without a hitch thanks to the efforts of the troops involved and a lot of non Legion folks as well.
The box of Star Wars toys was provided by my spy,Frank Sanchez.Frank won all the items on Ebay.He informed the sellers what the toys were for and asked if they could be shipped as quickly as possible.Every Ebay seller came through.One of them even threw in a pile of extra goodies for Mitchell.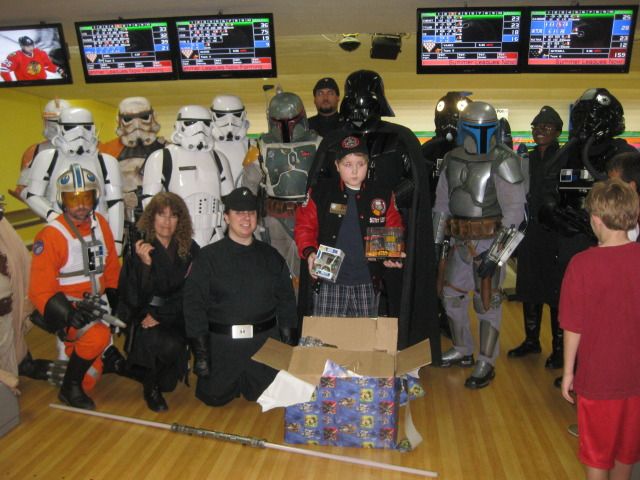 Here is a shot of me,Tim and Frank.I've been trying to recruit Frank for several years now.
I definately have to give thanks to Buddy and the rest of the staff at Crest Hill Lanes.They could not have been more accomodating to us.They were ready to provide us with anything we needed.
Last but not least,I have to thank Frank,Noel and Melissa for caring enough to bring this to our attention.They got the ball rolling.
Troops on hand for this event:
2834 Kevin Glass (Stormtrooper)
373 Scott Holder (TIE Pilot)
7844 Kristen Avara (Off Duty TIE)
5206 Robert Redden (Clone Trooper)
6443 Jody MCQuarters (Tusken)
8310 Robert Hamilton (Sandtrooper)
1659 Mike Riemma (TIE Pilot)
3052 Steve Szyndrowski (Imperial Officer)
412 Arturo Delgado (Jango Fett)
4541 Adriane Bean (Stormtrooper)
1781 Rich Markle (Darth Vader)
1951 Phyllis Schulte (Jedi)
265 Javier Esqueda (Stormtrooper)
9039 Dan Moriarty (Boba Fett)
4026 Cherri Krzyzowski (Off Duty TIE)
4438 Edward Krzyzowski (Tusken)
4913 Thomas Crix Turner (X-Wing Pilot)
Costume Support:
4838 Janine Jender
9038 Stef Moriarty
A lot more pics can be found here:
http://s386.photobucket.com/albums/oo30 ... 0Mitchell/
Janine's pics:
http://s1099.photobucket.com/albums/g39 ... 1QQtppZZ20
Phyllis's pics:
http://s201.photobucket.com/albums/aa30 ... ?start=all